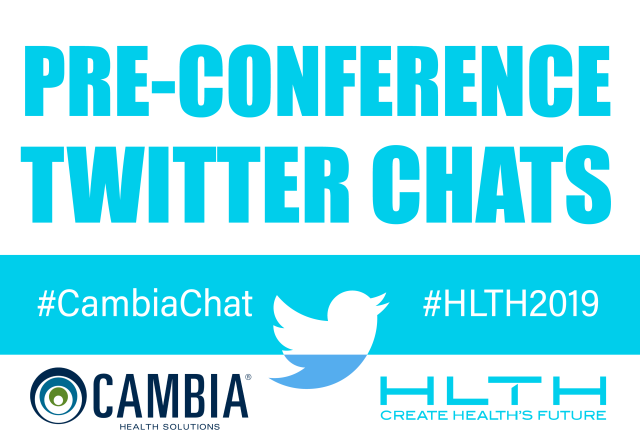 As the official social media sponsor of the 2019 HLTH conference (October 27-30 in Las Vegas, NV), We're teaming up with HLTH to host a series of Twitter Chats about AI, innovation and consumer obsession in health care—and we hope you'll join us!
These conversations are ideal for entrepreneurs and innovators, investors, health care enterprises, and policymakers who are interested in and involved with transforming the health care industry.
Join the conversation and follow along on Twitter using #CambiaChat and #HLTH2019
---
The State of AI: Opportunities and challenges of applying AI in our modern health care system
10/16 | 2 PM PT
Featured guests
Faraz Shafiq, Cambia Chief Artificial Intelligence Officer
Laurent Rotival, Cambia SVP, Strategic Technology Solutions, Chief Information Officer
Peter Lee, Microsoft Healthcare Corporate Vice President
Questions
Q1: What advancements in AI will have the biggest impact in transforming health care?
Q2: What are the biggest challenges facing advancement of AI technology in the health care space?
Q3: Data is only as good as what people are willing to share... How can we overcome the trust barrier and ethical concerns in data sharing?
Q4: How can AI make health care more people-focused?
Q5: How can AI help providers better understand consumer/patient/people's needs?
---
How is venture capital disrupting the "P's" of Health Care: Payers, providers, pharma and patients?
Featured guests 
Jessica Zeaske, Echo Health Ventures Partner
---
Creating a culture of consumer obsession: How does it translate to health solutions?
10/23 | 3 PM PT
Featured guests
Dee Cruz, Cambia VP, Consumer Obsession 
Matt Koehler, Cambia VP, Platform Solutions
Kevin Pereau, Founder/CEP, TranscendIT Health
Megan Callahan, Lyft Business VP, Healthcare
Join us online at #CambiaChat moderated by Cambia Health Solutions @Cambia.