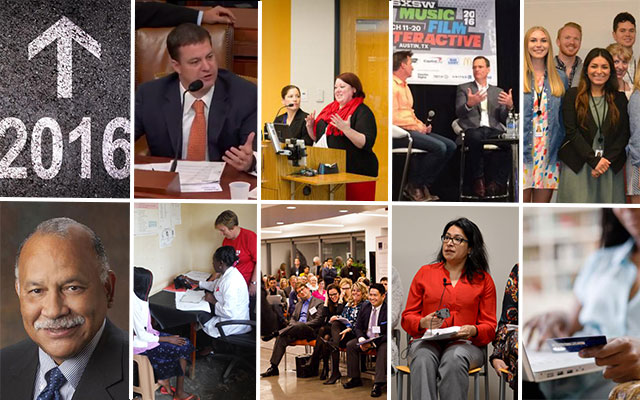 As we begin looking at the 2017 health care landscape, let's take a look back at what happened in health care and at Cambia in 2016 by revisiting the top blog stories of the year.
Which trends did we think would dominate the health care landscape in 2016? Data, transparency, telehealth and seamless consumer experiences. Here's how each of these trends played out throughout the year:
In September, Cambia was one of four health care companies invited to testify before the U.S. House of Representatives Ways and Means Subcommittee on Health. The hearing focused on how to improve the quality and affordability of our health care system. Cambia COO Jared Short shared how innovation is central to creating a simpler, more personalized and more affordable consumer experience.
At Cambia, we recognize that innovation requires both new ideas and individuals with the courage to act on these new ideas. In February, we recognized these individuals at Cambia who embody this courage at an Igniter Day hosted by Cambia's Innovation Force. It was a great way to celebrate innovation and reinforce our culture of intrapreneurship.
At the 2016 SXSW Interactive conference, Cambia took part in a first-of-its-kind SXSW event "Invest for Health: Curing the Real Pain Points in Health Care." The event brought together more than 250 health innovators and disruptors, united by shared energy toward a health care system focused on the consumer not the industry. Watch highlights from the event in our SXSW YouTube playlist.
Cambia's internship program is a great way for emerging professionals to become immersed in Cambia's culture and to be involved in meaningful projects that work toward transforming health care. Strategic Communications intern Rachel Day (now full-time employee), shared her perspective on her experience as a Cambia intern. Watch our internship program video for more insights from former Cambia interns.
Since joining Cambia's board in 2002, Mack Hogans' contributions to improving the lives of health care consumers, our company's growth, and to helping us fulfill our Cause have been vital. In recognition of his contributions, Mack was honored as a recipient of the 2016 Modern Healthcare Excellence in Governance Award. Mack was recognized for his inspiring leadership style and his involvement on both the local and national level.
In continuation of our partnership with Medical Teams International, Cambia returned to Uganda in late 2016 to refine our medical data app and to roll out implementation throughout local Ugandan clinics. Cambia employees Ivan Lebed and Cathi Row shared their experiences and updates throughout the trip. Read more about Ivan and Cathi's experiences or about the innovative partnership between Cambia and Medical Teams.
The Cambia Grove Reverse Pitch DayTM program saw continued success throughout 2016 as health care leaders, entrepreneurs and startups came together, eager to solve pressing health care problems. In this post, we shared highlights from the Reverse Pitch Day event with CHI Franciscan Health. Read more about how Reverse Pitch Day solves for the consumer.
In November, Cambia employees had a chance to hear from some of Cambia's top female executives in an engaging forum on being a women in power. As Cambia Vice President of Public Affairs Jennifer Danielson said, "Companies that have more diverse leadership ultimately perform better. Let's talk about it, let's acknowledge the goal, and let's be diligent of the conversations within our own teams to acknowledge diversity."
In 2016, U.S. e-commerce sales were expected to reach more than $554 billion. Meanwhile, health care has lagged behind other industries in embracing the shift to e-commerce. In this post, we explored three ways that everyone benefits from shifting toward a streamlined marketplace like Expedia.
Thanks for joining us for a look back through the archives! We hope you'll join us in 2017 as we continue to explore the quickly-changing health care landscape.