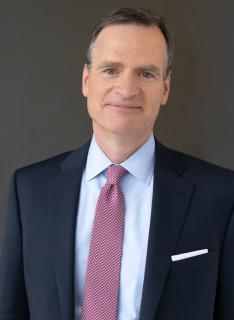 Mark Ganz is chief executive officer of Cambia Health Solutions, a nonprofit total health solutions company dedicated to transforming health care by creating a person-focused and economically sustainable system. Mark is working to champion change, challenging leaders and Cambia employees to focus every decision on consumer needs.
Transforming the way people experience health care is the cornerstone of his vision. Since taking the top post in 2003, he has guided the company and industry along a path of re-imagining and reshaping health care to be more empathetic, transparent, and economically sustainable. At Cambia, that means nourishing game-changing companies such as HealthSparq, while delivering on the promise built nearly 100 years ago as a trusted health plan.
Mark has an extraordinary record of involvement regionally and on the national stage. He serves on the board of directors for the following organizations: America's Health Insurance Plans (AHIP); Portland General Electric Company; Oregon Business Council (also executive committee member); Greater Portland Inc (a regional economic development corporation); Blue Cross and Blue Shield Association; Prime Therapeutics; University of Portland Board of Regents; Chair, Boy Scouts of America-Cascade Pacific Council; Catholic Charities; The Conversation Project; Coalition to Transform Advanced Care (C-TAC) and Advisory Board Member, Leonard D. Schaeffer Center for Health Policy & Economics. 
In 2013, he was honored with a Governors' Gold Award for his lifetime contributions to the state of Oregon in the areas of health care, economic development and leadership through community service. Mark's commitment to community was also recognized when he was inducted into the Gonzaga Preparatory School Hall of Fame along with his brothers, Rick Ganz, SJ, and Bill Ganz, MD. In 2015, the National Eagle Scout Association awarded Mark the Distinguished Eagle Scout Award (DESA) for his tremendous commitment and leadership within the community and health care industry. Recognition of Mark's groundbreaking work to personalize health care led Portland Business Journal to name him Healthcare CEO of the Year for 2014. He was profiled in 2017 by The Harvard Business Review on his unique vision to embrace innovation and take strategic risks in collaborative leadership in "The Board's New Innovation Imperative." In 2018, Mark was named one of the Top 100 Most Influential People in Healthcare by industry outlet Modern Healthcare.
Mark earned both his undergraduate and law degrees from Georgetown University in Washington, D.C.  While an undergraduate, he was a staff member for U.S. Senator Henry M. "Scoop" Jackson (D-Wash). He lives in Portland with his wife, Leslie, and their two children.
---
Mark Ganz's Statements on COVID-19:
Cambia CEO on COVID-19: "We are in the black swan of black swan events"
Caring for Each Other in Our New "Normal"
Working Together with Gratitude and Hope in a Time of National Crisis
Additional Videos with Mark:
Mark shares Cambia's Innovative Spirit
At HLTH on the Need for a Renewed Focus on Palliative Care
At HTLH Mark Spoke of Health Care Transformation
At HTLH Mark Spoke of Creating Hope in Health Care
At HTLH Matters Podcast Mark Spoke on Taking an Integrated Approach to Health Care and the Human Experience
Articles about Mark:
Mark shares the future of health care and Cambia, saying his company's competitors are now Amazon and Google, and why
His personal story on his drive to make health care better and the meaning of value in care