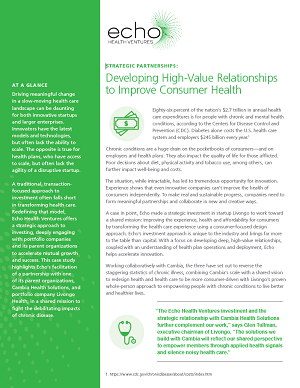 Developing High-Value Relationships to Improve Consumer Health (PDF)
Driving meaningful change in a slow-moving health care landscape can be daunting for both innovative startups and larger enterprises. Innovators have the latest models and technologies, but often lack the ability to scale. The opposite is true for health plans, who have access to scale, but often lack the agility of a disruptive startup. A traditional, transaction-focused approach to investment often falls short in transforming health care.
Redefining that model, Echo Health Ventures offers a strategic approach to investing, deeply engaging with portfolio companies and its parent organizations to accelerate mutual growth and success. This case study highlights Echo's facilitation of a partnership with one of its parent organizations, Cambia Health Solutions, and portfolio company Livongo, in a shared mission to fight the debilitating impacts of chronic disease.