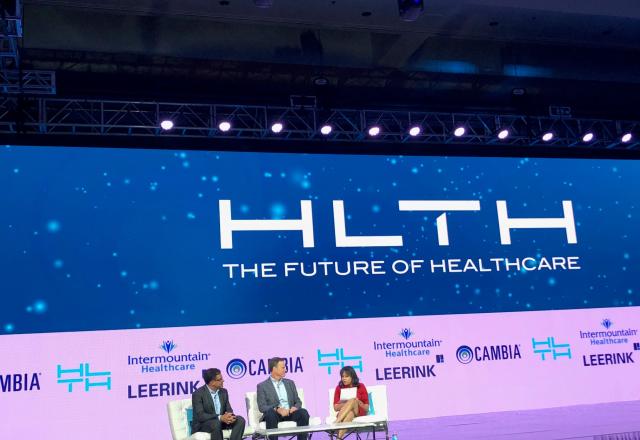 The "Future of Health Care Event" HLTH conference debuted in Las Vegas this May with the goal of driving substantial reductions in health care costs and improving quality. HLTH created a venue for an innovative industry dialogue, resulting in an unprecedented 3,500 plus attendees converging on the Aria in Las Vegas for the event.
Cambia Tweet Chat creates pre-conference buzz
Joining as the social media sponsor of HLTH, Cambia hosted a series of Twitter chats on health care innovation, leading up to the event (#CambiaChat) connecting diverse groups of health innovators focused on health nationally, and even featured a leader in space health innovation, knocking the tweet chat out of this world. Check out Cambia's Twitter chat landing page to learn more, or visit us on Twitter @Cambia to see how the conversation unfolded.  
Times are changing in health care, and the industry must keep up
At HLTH, Cambia's senior leadership were featured speakers. Cambia's President and CEO Mark Ganz "threw down the gauntlet" with Intermountain Healthcare President and CEO Marc Harrison, using straight talk on the "elephant in the room," the broken health care economic model, and the need for good people in health care to stop making bad decisions that lead to suboptimal results. 
The importance of creating unity among health care partners, and the need for less feelings of self-preservation, but true cultural change in health care were among the key themes that resonated with the packed room of attendees, shared on Twitter.
Cambia's investment company, Echo Health Ventures, was also represented, with CEO Rob Coppedge sharing the stage with Ryan Stewart of Leerink Partners, Matt Herman with Ascension Ventures and Rich Roth at Dignity Health. They recognized the evolution of health investment and discussed the challenges facing health systems, insurers, solutions companies and entrepreneurs in the current environment. The veteran investment panel provided actionable insights into how we can all do better.
Other Echo portfolio companies were also featured on stages throughout the conference, including mPulse Mobile, Livongo, Phreesia and Circulation.
The buzz didn't end there
Cambia's own President and CEO Mark Ganz is featured until this Wednesday on HLTH billboards in Times Square. If you're in the area, go check them out on the corner of W. 47th St. and Broadway in Manhattan.
Additionally, Cambia's leadership was interviewed throughout the day at the conference, and as videos post, we'll share them with you here on the Cambia blog. 
For now, check out our Twitter moment with conference highlights.