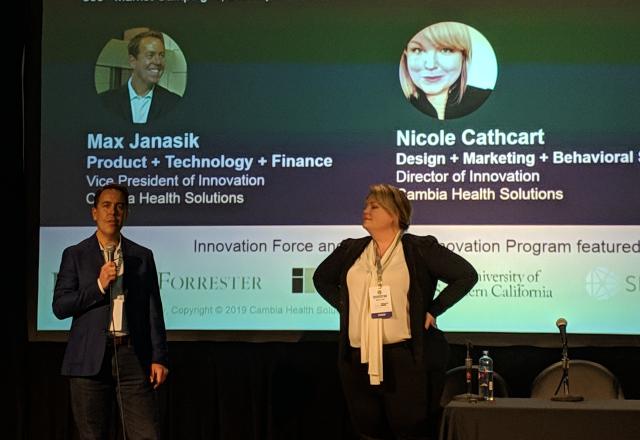 All of a sudden, blockchain is everywhere. Originally invented in 2008 to power Bitcoin, this technology is being used for everything from copyright protection to health care innovation.
This spring Cambia participated in TechfestNW, an annual technology conference held at Portland State University, that brought together innovators, startups, entrepreneurs, tech companies and investors from around the globe with four tracks: blockchain, future of work, smart cities and health & fitness.
Opportunities in Health Care
Cambia's Max Janasik, VP of innovation and Nicole Cathcart, Director of innovation, presented "How Your Health Care Experience Can Change with Blockchain Technology."
They tackled questions such as why blockchain has yet to live up to expectations when it comes to applications in health care—while also providing a business framework for evaluating when blockchain may be relevant.
After sharing an entertaining video introduction, "Blockchain Bonanza: Blockchain Explained by FinnTekkers," Max addressed the issue of blockchain adoption and success in health care. Referencing the Gartner Hype Cycle for Emerging Technology, he explained, "Blockchain is now entering the trough of disillusionment where inflated expectations have led to blockchain being considered a failure and even the brunt of jokes. However, in a few years, developers will likely be using blockchain elements in everyday development as it matures and becomes a mainstream capability within AWS, Google Cloud, Microsoft Azure and other computing platforms."
Democratizing Blockchain: Consumer Focused Innovation 
Max went on to share why blockchain could be very applicable to health care given many different systems of record and complex and expensive reconciliation that happens across the ecosystem. For instance, in Medicare, incentives can take up to two years to be paid out which could be completed in near real-time using smart contracts, a core benefit of blockchain technology.

Figure 1: The case for leveraging blockchain technology in healthcare
Prioritizing the Business Case for Blockchain In Health Care
Nicole shared a formula for thinking about how to prioritize the many use cases which may be most relevant for applying blockchain based solutions. While the lens for prioritization is different for each organization, this formula prioritizes consumer experience and industry efficiency, as the combination leads to systemic transformation of health care.
Nicole mapped use cases based on this quantitative formula, allowing the audience to visualize where an organization can begin. She said, "Issues like pharmaceutical supply chain are at the top of the list because studies show that worldwide approximately 2.5% of drugs are counterfeit which equates to $200B annually. This is a public safety issue and has significant momentum due to the Drug Supply Chain Security Act (DCSCA) demanding transparency into medication supply chain. This is a provenance issue that can be solved with blockchain technology."
Closing the presentation, Nicole referenced the Cambia Innovation Force white paper, "Blockchain and Health Transactions," that she and Max put together as part of a blockchain challenge by the Office of the National Coordinator, part of HealthIT.gov.