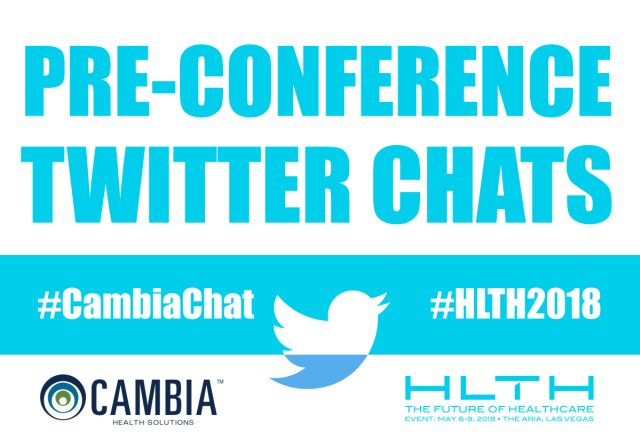 As the official social media sponsor of the 2018 HLTH conference, Cambia is hosting a series of Twitter Chats about innovation, technology and problem-solving in health care. Who should join? These conversations are ideal for individuals, companies, and policymakers who are interested in and involved with transforming the health care industry.
We hope you'll join us using #CambiaChat.
Bookmark this page! We will update often with details regarding the next chat, so make sure to check back for more information.
Stepping Out of the Matrix
Date and Time TBD
#CambiaChat | #HLTH2018
Featured Guests
Mark Ganz, Cambia Health Solutions    
Topic
Stepping out of the matrix: leading change instead of resisting it.
Use #CambiaChat to join the conversation.
---
Health Investors Want to Know: What's Missing
April 12, 11-Noon PDT
Thanks for chatting. Check out our twitter moment recapping this great conversation here: 
Featured Guests
Rob Coppedge, Echo Health Ventures 
Sam Brasch, Kaiser Permanente Ventures
Unity Stoakes, StartUp Health
Ben Albert, UpFront   
Topic
Health investors want to know: what's missing in health care engagement with members and patients, benefit plan designs, health care delivery experience and in payer/employer support of families of caregivers?
Questions
Q1 What do we need to build or offer to improve the health care system and patient experience as a whole?
Q2 What should health plans and health systems do differently?
Q3 How are health care venture capitalists and others truly driving innovation, and what should they be doing differently?
Q4 If the goal is systemic transformation in health care, what innovations does the market really need?
Q5 Who are the new partners that we really should be working with now? What partnerships must you have, if you're driving innovation?
Use #CambiaChat to join the conversation on April 12. 
---
Using Disruptive Tech for Good
April 23 | 9-10 AM PDT
#CambiaChat | #HLTH2018
Featured Guests
Laurent Rotival, Cambia Health Solutions
Chris Nicholson, mPulse Mobile
Alexis Gilroy, J.D., Jones Day
Dorit Donoviel, Translational Research Institute for Space Health
Topic
Using disruptive tech for good: how can disruptive tech revolutionize health care? 
Questions
Q1 How can disruptive technology revolutionize health care?
Q2 What do you see as the next big disruption or advancement in health care tech this year?
Q3 There is a long history of companies seeking to disrupt healthcare and limited success stories to date. Why is now the right time for disruptive health tech?
Q4 What are the biggest barriers to disruptive innovation in health care tech? How can we overcome them?
Q5 Are there factors not tech related that are key to finding success in health tech?
Use #CambiaChat to join the conversation on April 23.