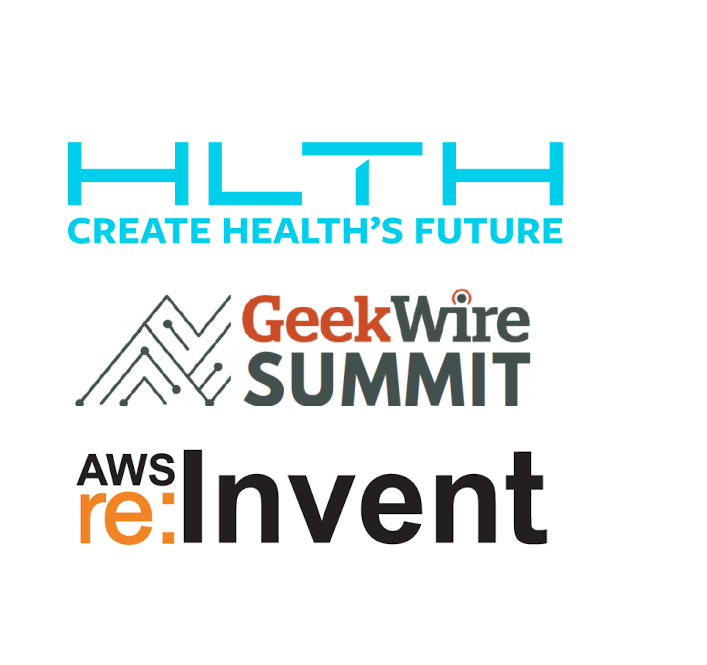 Six months into lockdown, health care's conference scene has gone fully virtual. Find details from upcoming sessions from Cambia's family of companies at HLTH, GeekWire Summit and AWS Re:Invent below.  
HLTH
At HLTH (10/12-19) join Echo Health Ventures Jessica Zeaske for part of the Women at HLTH track. Cambia Grove Executive Director Maura Little will release the first research from innovation hub's latest whitepaper on how to restructure building blocks in health care's innovation ecosystem.
Fireside Chat: Femtech Opportunity & Backlash – 10/15, 3:20pm
Achieving gender parity in healthcare leadership will require employers, executive leaders, boards of directors and managers to unite as champions for women. Women at HLTH will deliver winning organizational and leadership strategies to cultivate women leaders from hiring to retiring, covering topics such as establishing an inclusive culture, integrating technology and getting the most out of diverse teams. This session features conversation on stigma, bias, driving acceptance and landing your financing. Joining Jessica will be Amy Millman of Springboard Enterprises, and Holly Rockweiler of Madorra.
Innovation by Design: Indexing State Ecosystems for Digital Health – 10/15, 3:05pm
Later Thursday afternoon, Maura will debut the Cambia Grove's Innovation Advancement Framework, the latest whitepaper to come from the health innovation hub. Informed by the hub's research innovators, the framework identifies areas within the health care sector preventing impactful innovation.
The Innovation Advancement Framework is a new model to assess innovator building blocks in order to strengthen digital health ecosystems by state. Maura will contextualize the three pillars of infrastructure, incentives, and culture as ecosystem elements within health care which must be calibrated in supporting innovators' impact on the Triple Aim.
GeekWire Summit
Regence Health Tech Stage: The Transformation of Healthcare – 10/29, 11:45am
At the last day of the annual GeekWire Summit (10/13-29) Echo Health Ventures CEO Rob Coppedge will examine health care's progress with inter-system data exchange and other technologies being rapidly adopted and developed. His session will be a panel format focused on the transformation of healthcare, examining AI and how interoperability is changing the health care landscape as we know it. Joining Rob will be Dr. David Rhew, Chief Medical Officer and VP of Healthcare at Microsoft; Aashima Gupta, Director of Global Healthcare Solutions at Google Cloud; and Erin Brodwin, health tech correspondent at STAT.
Sneak Peek Preview
AWS Re:Invent
Migrate and Modernize to Achieve Your Business Outcomes – Early December (Session Timing TBD)
Coming up in November, AWS Re:Invent (11/30-12/18) will stream Cambia CIO Laurent Rotival's candid assessment of the challenges faced by Cambia and the greater health care industry that triggered what we refer to as "transformation." Laurent is a longtime advocate of liberating data from organizational silos to inform improved care decisions and care coordination. As an AWS cloud partner, he'll outline what these changes make possible in terms of health equity programs personalized by Social Determinants of Health, value-based care, and precision medicine.
If you're attending these virtual conferences make time to check out our sessions, or alternatively follow @Cambia for quotes and program highlights.