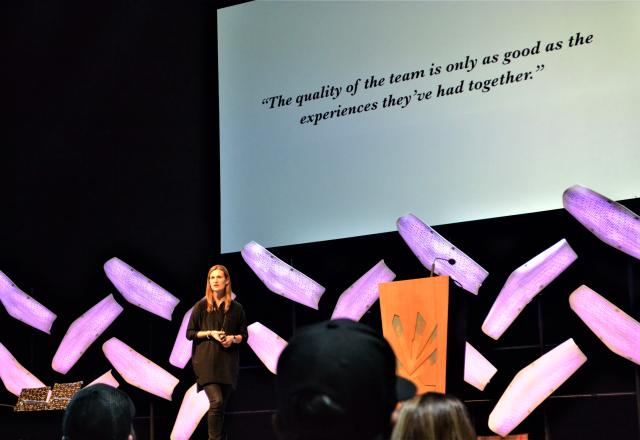 In anticipation of the "health tech" keynote for TechfestNW, Portland, Oregon's leading tech conference, hundreds of attendees poured into the newly built Portland State University Viking Pavilion where Cambia's Vice President of Consumer Experience Meg Dryer shared powerful insights into human-centered design through her talk, "Five Ways We're Making Health Care People-Centric, Starting From Within."
"Care is not the same thing as healing; healing acknowledges what is happening to your life," opened Meg. Pointing out the connection between health tech design and a holistic approach to user needs and desires, she continued, "There's no better recovery from failure, then getting back out there and getting aligned and getting curious about who you're designing for. Get more empathy…it lights a fire under people."
Meg shared three takeaways for incorporating healing into health tech solutions designed for people:
Get curious about people- internally, check-in with your team members or do something outside of work together. Externally, get curious about who you're designing for.
Let team members attend to what matters- when people can attend to what is important to them outside of work, then they're super committed to the cause.
Take recess- taking a break allows us to fill up again and replenish creatively.
As the Health Tech sponsor for TechfestNW, from April 5-6, 2018, Cambia featured workshops and speakers that engaged health tech innovators to transform health care.
Cambia Grove, a health innovation hub based in Seattle, took its popular 5 Points Conference series on the road to help entrepreneurs better understand how to design health care consumer solutions. Audience participants were asked to imagine a creative solution for someone who broke their arm on Mount Hood, was rushed to the ER, and now wants to know what their hospital bill will look like.
"The health care system is really complicated," said Maura Little, Cambia Grove's Executive Director. "We're working to bridge the gap between entrepreneurs and the traditional health care sector to lower that barrier of entry."
While designing a solution, workshop participants heard from a panel representing three of the five "points" (verticals) of health care, who provided feedback throughout the exercise to help audience participants think through the different factors – and people and organizations -- that go into designing a health care product. 
Kicking off our 5 Points Workshop with Dr. Cort Garrison (@OHSUNews) @MauraLittle Nancy Vuckovic & Jesse Southworth #tfnw2018 #5PointsConference pic.twitter.com/TumDPfUiVg

— The Cambia Grove (@CambiaGrove) April 5, 2018
 

Hakan Kardes, the Cambia Vice President of Data Science and Advanced Analytics, presented how artificial intelligence (A.I.) is emerging as a key service in the health care industry. He shared how A.I. combined with consumer experience research and human-centered design is making data actionable and creating powerful consumer solutions. When asked if it would decrease the cost of health care, Hakan answered, "Yes, because it will help put people more in charge of their health care decisions and provide more transparency. It's about getting the right information to people when they need it. Many cost drivers in health care are avoidable, and A.I. and data science can help…it's about the experience, we're creating for people."

To read more about TechfestNW, check out Willamette Week's article:

Forget the "Cloud"—Changing Healthcare Tech Will Depend on People Skills