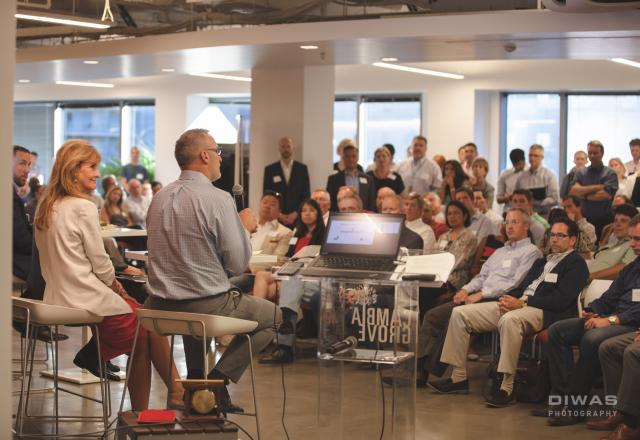 While many organizations talk about innovation, Cambia is making it happen through the Cambia Grove, a space in downtown Seattle. The space was launched in 2015 as a way to convene innovators and a diverse array of Pacific Northwest regional and national health care leaders.
Its Anchor Partner Program, in which organizations commit to one pilot program per year, is already producing real results for participating anchor partners.
Last July, Cambia Grove hosted its first-ever Reverse Pitch Day. Hundreds of health care innovators gathered to hear leaders EvergreenHealth, a hospital system based in Kirkland, Washington, "pitch" their business needs in hope of finding a solution through innovation. Here's what happened.
The Challenge
EvergreenHealth needed a solution that would help its physicians engage with patients in a meaningful, personal way while also capturing vital clinical information during visits.
The Experience
After hearing EvergreenHealth's request for help at the Cambia Grove, more than 90 innovators and startups submitted their solutions with the goal of landing a pilot program.
A select group of applicants were then selected to participate in the next round in which they presented their ideas to partner executives in "speed-dating" and "Shark Tank"-like sessions. The program culminated in a final letter of intent to one winner.
The Outcome
Five months later, EvergreenHealth launched a pilot program with the winning solution from Reverse Pitch Day, and is now on the fast track to improving patient-physician experience and transforming health care delivery.
"We had an initiative to drive innovation across our organization," said Tom Martin of EvergreenHealth. "Partnering with the Cambia Grove has definitely accelerated that for us."
About the Anchor Partner Program
EvergreenHealth is one of the Cambia Grove's eight anchor partners. Additional organizations participating in the Anchor Partner Program include Aon Hewitt, CHI Franciscan Health, MultiCare, Overlake Medical Center, Regence BlueShield and UW Medicine.
"Our Anchor Partner Program demonstrates how committed we are to igniting the region and working across the industry to catalyze health care transformation," said Nicole Bell of the Cambia Grove. "Unlike many innovation hub efforts, which may focus internally, this program drives and delivers results by connecting regional businesses with startups in under six months' time. Our aim is to help support and grow the broader health care innovation community and work collectively with others to raise the bar for the Cascadia region and beyond."
To date, each Reverse Pitch Day program has averaged 90 total applications, a total of 150 startups in the Cascadia region have been catalogued, and eight anchor partners have launched five pilot programs. Results from just one year at the Cambia Grove show that this model for health care innovation can work.
Learn more about the Anchor Partner Program on Cambia Grove's website, and see the full Anchor Partner Program case study on our website.