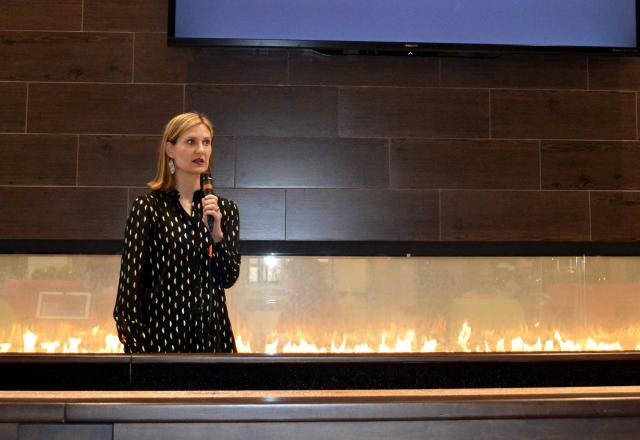 In the workplace, our environment is so much more than sitting at a desk, 9 to 5, in a cubicle. How can we encourage people to thrive in those spaces so that they can bring their best selves to work?
Cambia Health Solutions recently hosted Design Museum Portland for a discussion on innovating wellness at work and how human-centered design can be activated in the workplace. Design Museum Portland is a new kind of museum focused on educating the world about design, offering people an accessible, inclusive way to engage with design and designers.
The event featured Cambia's Vice President of Consumer Experience Meg Dryer, who sits on the advisory council for Design Museum, and Chera Justice, a wellness program coordinator at Cambia.
Meg and Chera addressed three questions that fundamentally impact employee wellbeing:
"Do I matter?"
Designing a workplace experience where someone feels valued starts with acknowledgement—not only for the work someone is doing, but for who they are as a person. Meg shared a few ways to accomplish this, including inviting teammates to share a skill (work-related or not), encouraging small acts of kindness, and simply sharing stories with one another.
"Stories bond us as people and they bond us as a team," said Meg. "When we know what's going on, we build those connections and those connections build resiliency."
"Do I belong?"
Allow creativity to flourish everywhere—even when the physical design of a workspace might not naturally encourage that. Instead of being limited by infrastructure, Chera encouraged others to celebrate culture, background and experience.
Inclusion of diverse viewpoints can challenge each of us to think differently. "When we advocate for each other, we're the most inclusive we can be," explained Chera.
"Can I be whole?"
How do we design for wellness and inclusion to recognize people's whole selves? "Actively show up," said Chera. "Embracing movement not just in pushups, but in life. We are designed to move—embrace that, build on it."
This movement can include everything from changing your physical environment, to hearing a colleague's differing perspective, to allowing flexibility for life's unpredictable events.
Learn more about Cambia's commitment to diversity and inclusion or our nationally recognized employee wellness program.