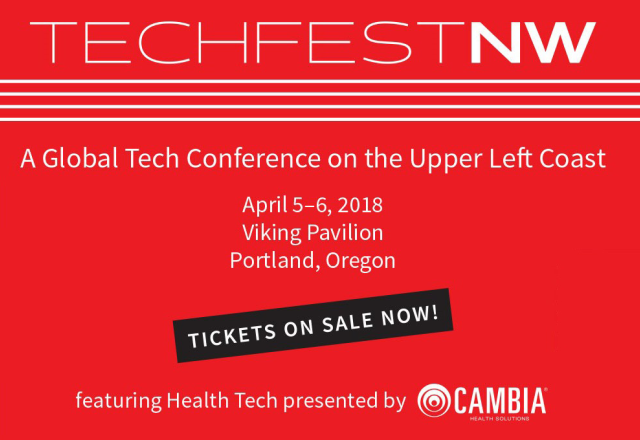 What do Rose Marcario, CEO of Patagonia, Nat Parker, CEO of Moovel, and Meg Dryer, VP of Consumer Experience at Cambia Health Solutions have in common? They're all mainstage speakers at this year's TechfestNW Conference in Portland, Oregon!
TechfestNW is a destination tech event, gathering innovators, startups, entrepreneurs, tech companies, and investors from around the globe in our own backyard. As the first official "Health Tech" sponsor of this year's TechfestNW conference, Cambia will have a presence on the main stage, workshops and at the recruitment booth.
Main Stage with Meg Dryer, Cambia's Vice President of Consumer Experience
True to Cambia's Cause to improve the way people experience health care, Meg will be giving the keynote, "Inside out: Five ways to make health care people-centric, starting from within." Before coming to Cambia in 2016, Meg worked as a Global Design Director at Nike on projects such as the Rio Olympics and the New York Headquarters. Before Nike, she spent the bulk of her career at IDEO, leading innovation and experience design projects across a wide variety of industries. She's designed car museums, loyalty programs for high rollers, online learning platforms, and new shopping experiences. An alumna of both Stanford University and the Stanford Graduate School of Business, Meg also lectures at Stanford's d.school, teaching design thinking, organizational design and behavior change.
Cambia Leading Two Cutting-Edge Health Tech Workshops
TechfestNW has organized engaging theme-related workshops in a more intimate setting off the main stage. Two of these workshops will be facilitated by Cambia innovators under the Health Tech track.
"A.I. Trends to Watch in Health Care," Join Hakan Kardes, Cambia Health Solutions Vice President of Data Science and Advanced Analytics, for a discussion on 2018 A.I. trends in health care and how big data combined with A.I. is emerging as a key service differentiator in the health care industry. He'll share how A.I., combined with consumer experience research and human-centered design, is being used to make data actionable and create powerful consumer solutions. 
"Cambia Grove's 5 Points Workshop," Maura Little, Executive Director of the Cambia Grove – Health care entrepreneurs face an uphill battle in accessing and understanding all of the stakeholders (the "5 Points) who have a say in their product. This workshop will give you an inside look by breaking down how health care verticals work together. Using human-centered design practices, you'll be guided through the development of your own health innovation design. All levels of health care experience are encouraged to attend."
Cambia's Hiring
If you're attending TechfestNW this year, be sure to stop by our recruitment booth on the demo floor. From senior-level engineers to tech internships, we are looking for professionals who want to change health care.
Follow-us on Cambia's blog and @Cambia on Twitter to learn about what's to come.