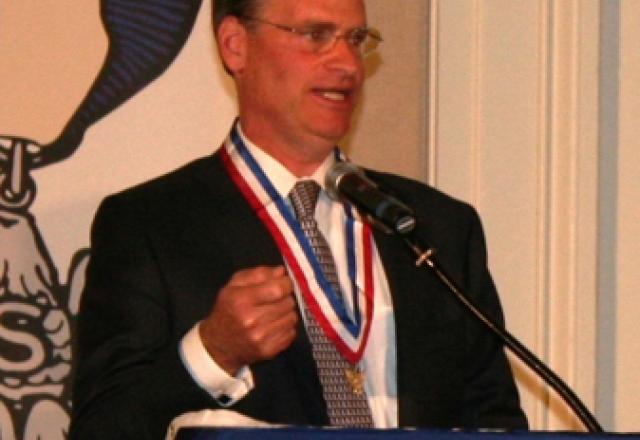 We're proud of our President and CEO, Mark Ganz who was awarded the Distinguished Eagle Scout Award (DESA) in recognition of his community leadership and strong record of voluntary service.
This rare award was established in 1969 to acknowledge Eagle Scouts who have received extraordinary national-level recognition, fame or eminence within their field and have held the rank of Eagle Scout for a minimum of 25 years.  The award is given by the National Eagle Scout Association upon the recommendation of a committee of Distinguished Eagle Scouts. 
After accepting the award with his family by his side, Mark turned the spotlight back to the 515 Eagle Scouts in the audience, presenting ten academic scholarships to those scouts embarking on their collegiate journey.
"Excellence in a community starts with personal lessons, and these Scouts represent the best examples of that commitment to personal excellence," said Mark. "Obtaining the rank of Eagle is a big deal, and it's wonderful you have obtained it, but it's really just the beginning."
Mark made the point that Scouting doesn't end after achieving the rank of Eagle – it's a lifelong journey including gratitude, preparedness and giving back.  It's these Scout lessons which have fueled his passion to transform the industry creating a better health care experience for all of us.
Cambia congratulates Mark and our local Eagle Scouts, we thank them for their commitment to community and personal excellence!