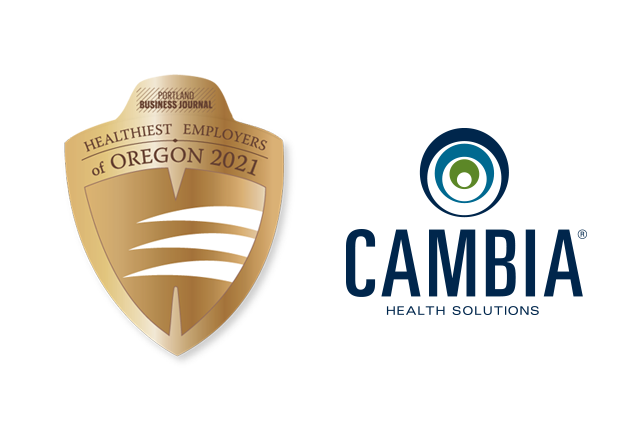 This year, Cambia earned the No. 1 spot as Healthiest Employer in Washington and the No. 2 spot as healthiest employer in Oregon for each of their respective sizes. This marks the third year in a row that Cambia in Washington has been recognized by Springbuk's Healthiest Employer Awards. And it's the sixth year in a row Cambia has been ranked in the top-five healthiest employers, according to the Portland Business Journal. This year and in years past, Cambia's multi-dimensional and innovative approach to wellness and our inclusive wellness programs have made us stand out as a star example of a company dedicated to employee health.
What it Takes to be a Healthiest Employer  
The Healthiest Employer Awards showcase companies that demonstrate innovation and leadership in wellness programs — and that successfully encourage healthy lifestyles for their employees. Health intelligence platform Springbuk noted that from March 2020 to March 2021, Cambia recorded over 13,800 employee views of the company's wellness webinars, which ranged from networking to virtual group fitness classes. Employee participation in WellPower programs was also at a high over the last year.
According to Springbuk, Cambia prioritizes "data and the ability to monitor and measure clinical improvements within their employee population. By identifying gaps in care, risk levels, and utilization, they worked to modify their programming in order to meet the needs of their employees." 
Since 2009, Springbuk's Healthiest Employers Awards have been a leading recognition program for employee wellness. The program hosts award ceremonies in over 45 regions across the country and applicants are not only eligible for local recognition, but also have the chance to earn a spot on the Healthiest 100 Workplaces in America.
In addition to the Springbuk recognition, the Portland Business Journal's (PBJ) Healthiest Employers of Oregon awards have consistently recognized Cambia. The award was created to recognize organizations that have shown dedication in creating a healthy workplace. The assessment is made up of six key categories: culture and leadership commitment; foundational components; strategic planning; communication and marketing; programming and interventions; and reporting and analytics. The categories, proprietary scoring and benchmarking were formed with the help of national representatives from the academic, medical and business communities.   
Cambia Committed to Healthy Employees  
Wellness in the workplace has never been more important — especially during these difficult times. Research shows that healthy employees are more productive, spend less time away from the workforce and spend less on health care. For more than 20 years, our employees' participation in WellPower, our company wellness program, and our commitment to creating a culture of health and well-being has established Cambia as a company that deeply values the overall health of our employees. We are committed to continuing to innovate and evolve our wellness program, while we proactively support well-being among our employees.