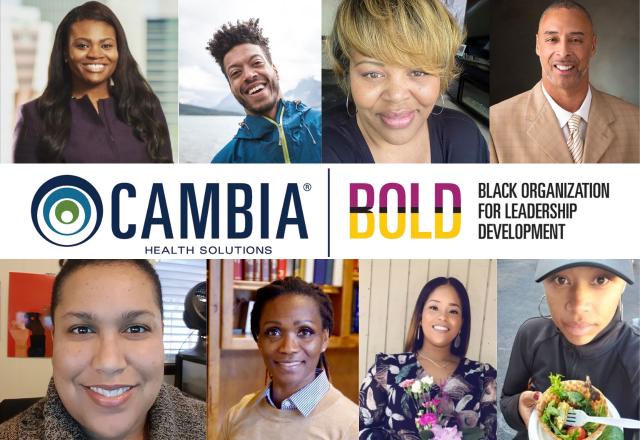 By Kilaa Slaughter-Scott, Cambia BOLD ERG Chair 
Members of Cambia's Black Organization for Leadership and Development (BOLD) employee resource group share why Black History Month is meaningful to health care transformation, community impact and social justice. BOLD Chair Kilaa Slaughter-Scott introduces their stories. 
Black history is American history. It is part of the roots that nourish us and help us grow united.
Black History Month is a time to reflect and celebrate the contributions and achievements of African Americans and their significant role in U.S. history. Recognizing the past and present opens doors to a better future for all. 
As we take this time to celebrate Black history, seek diverse voices and hear unique perspectives, may they serve as a reminder for us to work together toward creating a history that we will all be proud of, transforming together toward a better tomorrow. Read some of our members' stories below.
How has the Black Organization for Leadership and Development (BOLD) employee resource group impacted your experience at Cambia?
Dijana Steward, Technical Project Manager & Bridge Builder 
"As a 100% remote employee, I was lacking a certain level of community within Cambia. There was never more of a time when I needed community than in the last year. 2020 brought challenges for me that my teammates wanted to support me in, but it was hard for me to really articulate the hurt, fear and anger that I was feeling without making them feel bad. I needed the safe space and comradery that BOLD provided during that time. I became closer to so many of my Black and non-Black BOLD group mates. I didn't have to apologize or minimize my pain in that space. Some days, that connection saved my sanity." 
Antoinette Awuakye, Oregon Benefit Contracts & Compliance Analyst
"BOLD has become more than a Black employee leadership organization for me. It's like a family away from home where I belong without judgement. Personal and professional experiences are shared, Black people and pioneers are celebrated, and we give back to the community through service and donation."
Tamara Tiggs, Customer Service Supervisor
"Being a part of BOLD has allowed for me to meet others within the company that have similar interests but are not in my direct department. I have felt like my concerns and issues are shared by upper management and leaders within the company, allowing me to feel safe to be 'myself' in my work environment."
Who is a figure in Black history or currently who inspires you? What would you ask them?
Dijana Steward, Technical Project Manager & Bridge Builder 
"While I am honored to be preceded in life by many great men and women who have fought for equal rights and groundbreaking innovation, I am always in awe of the humans that I know currently. This includes leaders of BOLD, parents that stand together to demand diverse curriculum for their kids, the white executive who isn't afraid to admit that his department lacks diversity and works to create a more inclusive and welcoming place for candidates and employees of color, my colleagues that have always treated my voice with value, my 13-year-old daughter who wears her naturally kinky curly hair on full display for all of her predominantly white classmates to see, and my 20-year-old son that never missed a day of culinary school despite being treated badly by classmates because he was different. These are the people that I want to share a meal and my time with. They are the real MVPs and I find them fascinating."
Michelle Kornegay, Account Executive of WA Sales
"There are so many figures, past and present, that inspire me daily. I'm eternally grateful for the many sacrifices made by so many in the hope of a better future for all. If I could only have dinner with one of my inspirational figures, Maya Angelou comes to mind. She was a phenomenal woman and spoke words of love, empowerment, and equality. Through her words I gained the courage and confidence to be my best self and move through life in that awareness. Her life was an example of grace, confidence, and abounding love. I wouldn't have a specific question to ask, but I would take the opportunity to say 'Thank you' and let her know how much of a difference she made in my life."
Is there a community cause that you are passionate about? 
Cynthia Hendricks, Journi Care Guide
"Health care and health education. If we could bring more awareness and resources to people's health care needs, it would really help the community."
Calvin Richardson, Assistant Director of Provider Partnerships 
"I spend my professional time trying to fix the health care system and spend my personal time trying to fix the education system. Health impacts educational attainment and educational attainment impacts health – the two are inextricably intertwined. Because of this connection, disparities in health outcomes feed into disparities in educational attainment and vice versa. The poor outcomes we see for communities of color in both health and education are the results of policy decisions. As such, I believe that we all shoulder the responsibility for these outcomes, as well as the responsibility to fix them."
Can you share your journey to Cambia and what inspires you to help others? 
Calvin Richardson, Assistant Director of Provider Partnerships 
"I've spent my entire career trying to find ways to make health care less expensive, higher in quality, and more attentive to the needs of individuals. I've sought out companies that acknowledge the brokenness of our system, that we must solve for the needs of individuals and that we must understand the larger context in which health care takes place as we work to transform it. Cambia is more forward thinking on these topics than many companies. While there is still room to grow, I'm confident we can get there." 
Michelle Kornegay, Account Executive of WA Sales 
"I've been at Cambia for a long time. Like many, when we are young, we explore different job opportunities until we find the one that truly fits. I worked fast food, at a music store and even sold briefcases door to door when I lived in New York. One job that made a lasting impression with me while living in New York was when I worked at a homeless transitional facility for women and children. When working at this job, I was able to meet people in their most vulnerable state and provide compassion, encouragement, and love. It's knowing that I made a difference in someone else's life that inspires me to help others. Cambia has granted me the opportunity to make a difference in the lives of each customer I encounter." 
Stephen Styles, IT Operations Lead
"My journey to Cambia started in August 1985. My parents believed very strongly in 'service to others' and instilled that in me at an early age. What also inspires me to help others is the opportunity to share some of my life journey and experiences. I hope that in some way it helps someone just by giving them a unique perspective, and vice versa, with me listening and gaining another perspective. I always try and give a simple smile, (especially if you can get them to laugh), or just greeting someone and saying 'hello.' It can really make all the difference in a person's day. You never know the impact you may have on someone by giving service to others." 
Year round, the BOLD ERG develops the professional and leadership skills of Cambia's African American employees and allies. Through formative mentoring and community engagement, the group reinforces diversity and deeper inclusion as agents for change within Cambia.
BOLD ERG Member Resource Recommendations to Celebrate Black History Month:
Donate to Community Groups/Nonprofits
Watch
Read
Listen
Learn more about the BOLD ERG resource group and our commitment to diversity.