Our Cause: To serve as a catalyst to transform health care, creating a person-focused and economically sustainable health care system.
Who We Are
Person-focused from the very beginning
It began over a century ago, with people helping people. Bold thinkers in the logging camps of the Pacific Northwest came together to take care of one another.
What We Do
Human-centered health care is at our core
At Cambia, innovation isn't a buzzword. See how we're putting health care transformation into action.
Meet Journi, a new approach to health that revolves around the unique needs of each one of us — when, where and how we need it most.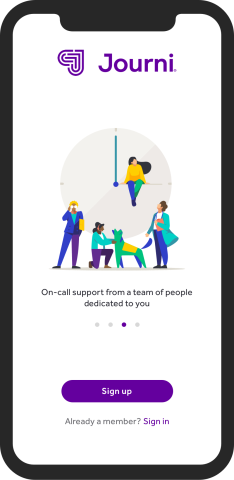 Journi is a digital platform that helps people confidently manage their health care. Powered by data, innovation and people, Journi brings health and well-being support, prescription management, insurance and other benefits together in one place.
Community is at our core
We take care of each other. With a spirit of innovation, we are proud to serve the greater communities where we live and work. We are on a mission to make health care more accessible, more integrated, and more personal.
In this Together | COVID-19
Cambia continues to share stories to encourage mental health, wellness and support caregiving. We hope you will check back often as we look to support one another.
Do you believe in human-centered health care? Do you lead with compassion and an entrepreneurial spirit? Join us.
We are nearly 5,000 employees across 30 states, working to transform how people experience health care. Recognized as a Top 100 Healthiest Workplaces and among the World's Most Ethical Companies, we are rooted in a legacy that puts people first, always.