Cambia Achieves Perfect Score on Workplace Equality Index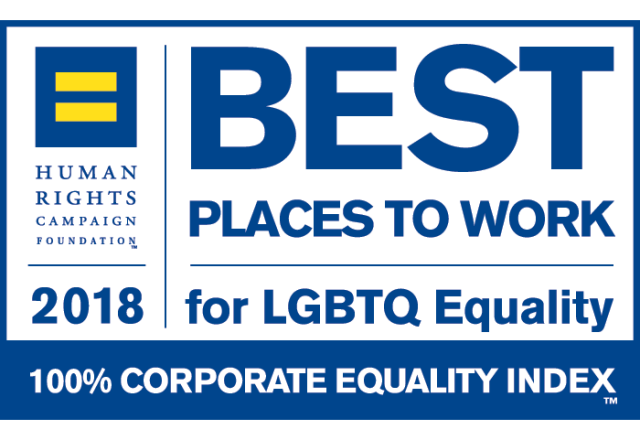 For the second year in a row, Cambia achieved a perfect score of 100 points on the Human Rights Campaign Foundation's national Corporate Equality Index. As part of this accomplishment, our company was also named one of the best places to work for lesbian, gay, bisexual, transgender and queer (LGBTQ) equality.
We're extremely humbled by this distinction, as we continually strive to create a diverse and inclusive work environment that recognizes the value and contributions of all employees. We're also grateful to the PRIDE Employee Resource Group (ERG), who for the third year have collaborated across the company to spearhead our participation in this Human Rights Campaign program.
PRIDE ERG co-chairs, employees David Weir and Steve Lesky, have been especially integral in the effort and were the ones who first encouraged Cambia to participate in the survey.
David shared his perspective on what our HRC score means to him personally and to the work we do as a company. "We need to continue to work to keep our HRC score at 100. We need to be sure we're constantly evolving and changing in our benefits and policies," said David. "We're working on it, and we're trying, and that's all we can do. Do what we can, the best we can."
Reflecting on his nearly 20 years with the company, David shared, "We still have a lot of work to do, but we have come so far, and I'm so proud of what we have done."
Steve shared the importance of working for an organization that values employees for who they are. "Diversity, equity, and making people feel confident about who they are allows them to bring their best selves to work each and every day," said Steve. "It's an extremely important aspect of corporate culture. You can't stand up a consumer-centric model without diversity and inclusion baked in."
Thank you to David, Steve, and all of our employees whose commitment to living our company values has led to this recognition. We recognize that the work of diversity and inclusion is never complete and we look forward to continually improving our practices.