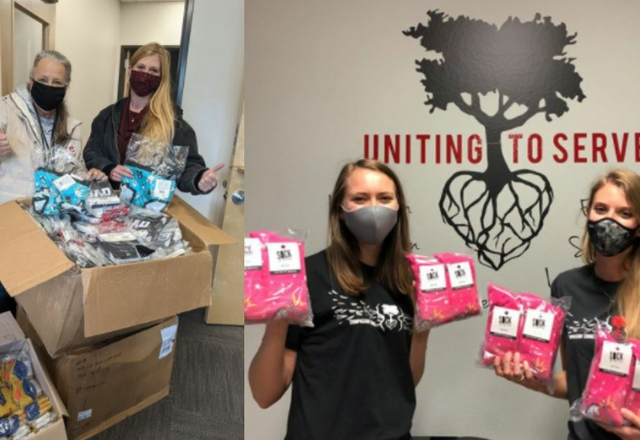 Socks are an everyday item that many of us take for granted.
But for the 17 out of every 10,000 people in the United States experiencing houselessness, clean, undamaged socks can help protect against frost bite in sub-zero temperatures, lower rates of infections and disease and, more importantly, provide a sense of comfort for those struggling through challenging times. 
To help address the increased need for support this year, Cambia's regional health plans partnered with Sock It to Me, a sock company based out of Portland, OR, to distribute socks and underwear to nonprofits across Oregon, Washington, Idaho and Utah.
As part of the company's Season of Giving and Gratitude, each Cambia employee received a pair of socks matched 1:1 with another pair for a person in need. Organizations like Compassion Connect, Volunteers of America, Utah and Tacoma Rescue Mission were among 11 recipients of this donation totaling 5,000 pairs of socks as well as 2,700 pieces of underwear. Many of these organizations offered these lifesaving resources to individuals and families in need, along with free COVID-19 tests, medical care and other important resources. 
Now more than ever it's important to lend a helping hand to those most in need. While traditional methods of volunteering are on pause due to the COVID-19 pandemic, there are still ways for you to give back while staying safe and practicing social distancing. 
Here are two ways you can provide support to people and families in your community: 
Spread warmth with a virtual coat drive. With winter quickly approaching, many houseless people are in need of clean, warm jackets to help them stay safe and protected from the elements. Do your research to see how specific nonprofits would like you to donate and fundraise.
Drop off a nourishing meal. Consider preparing an extra plate to deliver to an elderly neighbor or housebound individual. While the Centers for Disease Control (CDC) reports there is no link between COVID-19 and food preparation, be sure to take extra caution when making food for someone else by disinfecting high-touch areas in your kitchen and washing your hands often.