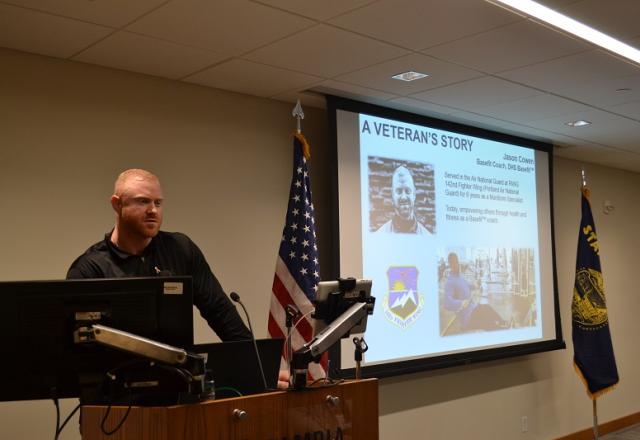 Jason Cowen shares his story at Cambia's 2016 Veterans Day Tribute
"My reality and my truth was lacing up my boots, putting on my uniform and standing next to men and women who had found their truth," explained Jason Cowen, a Cambia employee and member of the Cambia Military Community Employee Resource Group. Jason served in the Air National Guard at PANG (Portland Air National Guard) 142nd Fighter Wing for 6 years as a Munitions Specialist. Now, he's found another way to help people at Basefit, a Cambia company, as a coach.
The Cambia Military Community Employee Resource Group is an inclusive group that brings awareness to and celebrates our diverse veteran community while making Cambia a great place for Veterans and their families to work. At the Cambia Military Community Employee Resource Group's annual Veterans Day Tribute, Jason addressed a group of employees, telling them, when you're in the military, "you are willing to sacrifice whatever is needed to grow." This realization helped him transition from military life to corporate life. Jason realized his passion for helping people while serving in the Air National Guard and wanted to find a corporate career where he could continue to serve others.
Jason found his calling at Basefit, a solution that serves the men and women of the armed forces with performance training solutions that impact total health and lifestyle. Basefit monitors progress on physical performance, resilience, readiness and facilitates team meetings, much like a drill sergeant would.
Jason's transition to the corporate world reflects Cambia's commitment to those who served and their families. In fact, Cambia was recently recognized with a 2017 Military Friendly® Employers designation. Military Friendly® ratings and resources provide service members and their families with the information they need to make decisions about civilian careers. Employers recognized with this designation represent the top tier of institutions who provide the best opportunities for military service members and spouses.
Cambia's Chief Operating Officer Jared Short explained our commitment to hiring Veterans: "When Veterans join Cambia, we want to offer them camaraderie, community and support." Together, we make Cambia and our companies a great place for Veterans to work.