Cambia Recognized as Oregon's Second Most Admired Health Care Company and Sixth Most Admired Company Overall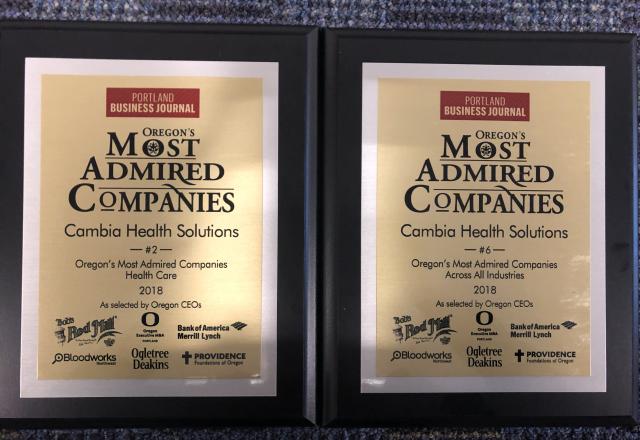 The votes are in, and today at the 2018 Most Admired Companies awards program, hosted by the Portland Business Journal, Cambia Health Solutions was ranked as the second most "admired company in health care" and the sixth "most admired company across all industries." Maintaining a strong track record in the health care sector, Cambia was named #2 in 2017 and #3 in 2016. CEOs and business owners throughout Oregon choose winners via survey across eight industries.
Thank you @PDXBIZJournal for recognizing Cambia as the #2 most admired health care company and #6 across all industries among Oregon's most inspiring organizations. #PBJAdmired pic.twitter.com/XQYCmsiasQ

— Cambia Health (@Cambia) December 13, 2018
Cambia was founded over 100 years ago right here in the Pacific Northwest. It is an incredible honor to be recognized at home for the work we do across our region. We are proud to be headquartered in Portland and humbled to be honored among the incredible businesses represented this year.
Every day Cambia employees work to empower individuals in their own personal health care journey. Each of us has a health care story – from our CEO to the broader community to every employee - that shines a light on how people could experience health care, and it is this realization that drives our passion and renews our commitment to our Cause: to make health care person-focused and economically sustainable.
On behalf of every Cambia employee, thank you for this incredible honor. Congratulations to the Top 10 Most Admired Companies in health care and across all industries for 2018!
Across health care:
Oregon Health & Science University
Cambia Health Solutions
Providence Health & Services
Kaiser Foundation Health Plan & Hospitals of the Northwest
Doernbecher Children's Hospital
ZOOM+ Care
Providence St. Vincent Medical Center
Legacy Health
Avamere
Randall Children's Hospital at Legacy Emanuel
Across all industries: 
Nike, Inc.
Columbia Sportswear Company
Oregon Health & Science University
Intel, Inc.
Adidas
Cambia Health Solutions
New Seasons Market
A-dec, Inc.
AWS Elemental
Providence Health & Services and Wildfang