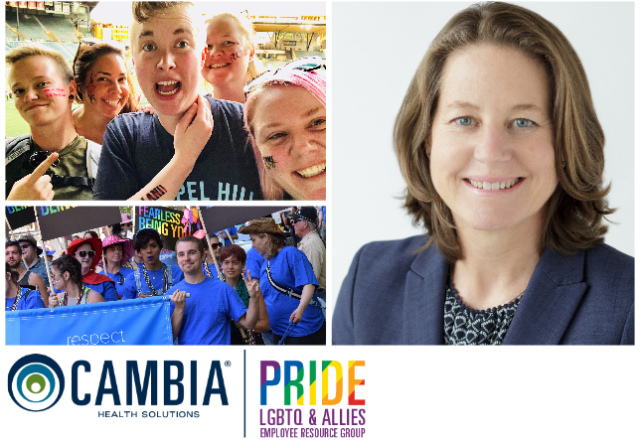 Inclusivity is integral to designing a better health care system for all. Employees who are encouraged to be their authentic selves give a much-needed voice to health care consumers who aren't represented elsewhere in the health care system. At Cambia, we pride ourselves on being an open-minded resource to better serve these communities.
For the past four years Cambia Health Solutions has achieved a perfect score of 100 on the 2020 Corporate Equality Index (CEI), a rating of LGBTQ+ corporate policies and a testament to our employees' unflinching support for equity.
In 2019 we checked in with Cambia's PRIDE Employee Resource Group co-chairs Manda Bednarik and Max Western about how this score translates to their experience as members of the LGBTQ+ community at Cambia.
This year, we spoke with another member of the community, Cambia VP of Clinical Services Julie Lindberg, MSW, to learn how Cambia is empowering our employees and other businesses to champion equitable business practices.
As the PRIDE Employee Resource Group's Executive sponsor, how do you see your role as a leader of this group improving the workplace for LGBTQ+ employees?
At Cambia, I am working with the ERG leaders and members to create a workplace culture that supports, nurtures, and promotes justice, equity, diversity, and inclusion (JEDI), and have adopted the JEDI theme for 2020.  We are doing this work by expanding ERG participation, and in 2019 we saw PRIDE membership increase 50%. Adding members has broadened our voice, creating a place for these discussions to exist through our monthly ERG meetings and hosted educational panels. We recently hosted a panel of speakers on Marginalized Youth Mental Health in order to raise awareness of the needs of our community.
Last year we conducted a survey of our ERG members to evaluate our progress in achieving corporate equality and inclusion.  Results of this survey drive our action plans for 2020 to continue progress towards equality.
We all understand diversity, equity and inclusion are hallmarks of an inclusive workplace environment. Can you describe what sets Cambia's commitment to inclusivity apart?
Part of the work of creating an inclusive workplace is ensuring that everyone feels safe and knows what to do if they face or witness someone else facing discrimination. As an ERG, we are working collaboratively with our Human Resources leaders to ensure that all of our members know what to do if they experience or witness discrimination so that we are truly creating an inclusive workplace.
Additionally, we partner with Cambia's other ERGs – HOLA (Home of Latinxs and Allies,) BOLD (Black Organization for Leadership Development,) and WELL (Women Employee Leadership Lab) - to promote broader education addressing intersectional JEDI activities.
How does Cambia demonstrate an inclusive workplace culture? 
Cambia has been an early adopter of workplace policies to support inclusion. Our company was an early leader in providing domestic partnership benefits, non-discrimination policies in healthcare coverage, and benefits for transgender-related care.  For example, when LGBTQ+ non-discrimination protections in the Affordable Care Act were threatened last year, Cambia reinforced its stance of nondiscrimination in healthcare coverage and services for the LGBTQ+ population.
Across the company we celebrate PRIDE month in June, and our ERG takes this opportunity to educate other employees about inclusivity. Our 2019 PRIDE celebration was the first time a LGBTQ+ flag has flown over our Portland office building, and we used that milestone to commemorate and educate our employees about the 50th anniversary of the Stonewall riots.
Similarly, we celebrated International Pronoun Day and shared an internal FAQ on correct pronoun use and how employees can begin to incorporate non-binary language into their vocabulary.
How is Cambia fostering partnerships with local organizations to further support the LGBTQ+ community health care experience?
Every year, each ERG partners with Corporate Social Responsibility to support local non-profit organizations that are doing health care advocacy work for their communities. Each year, we work to engage these organizations by bringing them in to speak on a panel, attending an event, or volunteering in community education efforts.
In 2019, we partnered with the staff of the Transgender Health Program at Oregon Health & Science University (OHSU) to create a training for our employees titled Care for Transgender and Gender Diverse Communities which is available in our employees' online learning platform.