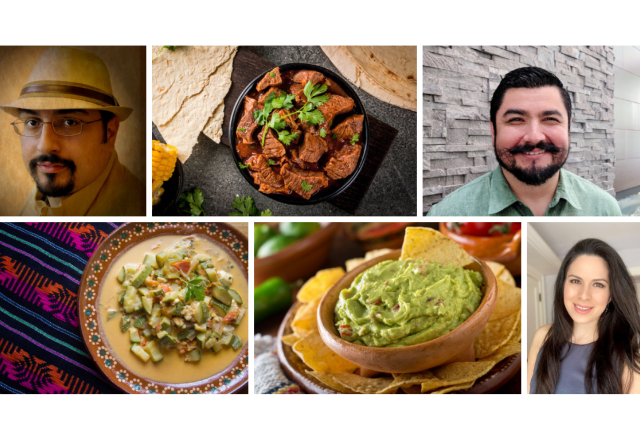 During national Hispanic Heritage Month, which is celebrated from Sept. 15 through Oct. 15, we recognize and celebrate the wealth of cultural diversity and achievement that Hispanic and Latinx people contribute to our communities.
 
As part of this month, members of Cambia's Home of Latinxs and Allies Employee Resource Group (HOLA ERG) shared personal recipes and stories. Feel free to enjoy and save this PDF cookbook. Food has the power to bring us all together.
Download and save the full HOLA ERG Cookbook!
Picadillo (Cuban-style) - Ray Laurence, Project Management
Picadillo is a traditional dish in Spain and many Latin American countries and the Philippines. It's similar to hash -- made with ground beef, tomatoes and other ingredients that vary by region.








Chile Colorado (Northern Mexico) - Omar Amezquita, Network Management
Chile Colorado is warm in temperature and spicy in heat. It goes great with rice, fresh radishes, cilantro and, of course, tortillas.
Margarita's Salsa Suave - Gorgy Gonzales, Network Management
This Salsa Suave is a one-of-a-kind recipe created by a family member to be shared by all who love a reason to celebrate being together. The salsa can be enjoyed with chips, tacos, enchiladas, rice, eggs, etc.








Traditional Guacamole (Mesoamerica -- pre-colonial Mexico) - Veronica Seifner, Integrated Strategic Marketing & Insights
A traditional molcajete y tejolote (mortar and pestle) is extremely difficult to come across these days, as they used to be hand-carved from a particular volcanic basalt. Recently, my mother gifted me with the molcajete that was given to her by my paternal grandfather. I now use this heirloom to create traditional salsas, guacamole, and Mexican spicy hot chocolate.
Chicken (or Beef) Tinga - Jeni Arbuckle, Customer Service
Every time entering my Tia's there would be this smell. Some meat, whether chicken, goat, pheasants, beef, pork … whatever was available would be cooked for anyone who was hungry. We would have a big pile of tortillas and the tinga and homemade salsas with another big pot full of beans and seasonal fruit.





Tia's Chicken Chicano - Roxanne Nuñez, Clinical Applications and Data Analytics
When I was young, I would stay with my Tia during the summers in California. She would make this at least once during my stay. I have been making it for my children for years and it has evolved into what it is today.
Calabacitas (Mexico) - Guy Thompson, Legal Department
I grew up in a big family with five siblings, my Nana, and my parents all under one roof in Tucson, Arizona. We often made large pots of food to feed everyone. One of my favorite dishes growing up was calabacitas (calabacita is Spanish for squash). We had calabacitas multiple times a month throughout my childhood, usually with a plate of beans, rice, and warm tortillas.