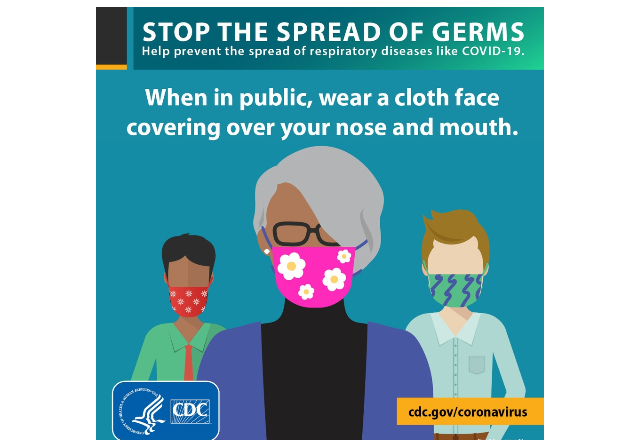 Experts remind us we are still in the first wave of the COVID-19 pandemic, and as communities loosen restrictions, infections are on the rise. In fact, some communities and states have reinstated mandatory masks in public in some areas to stem the tide.
There is much yet we have to learn about COVID-19. However, we have strong evidence that a public health approach—where we all take responsibility for keeping ourselves and people in our communities safe—is effective at slowing infection rates.
And while we've all heard it a thousand times, physical distancing, hand washing, and wearing a mask in public reduces the transmission of the coronavirus. Here's what the science tells us:
What we know:
HealthAffairs.org reports that communities that have mandated mask use in public have experienced greater declines in COVID-19 transmission than those that haven't.
According to the Centers for Disease Control and Prevention (CDC), the coronavirus that causes COVID-19 spreads easily from person to person, so it's best to keep your distance, especially now that communities are reopening.
Washing your hands and wearing a mask can help protect you and others.
Anyone—regardless of age—if exposed can get COVID-19. In fact, JohnsHopkinsMedicine.org reports more younger adults are contracting COVID-19, with some requiring hospitalization, even intensive care.
People who are over age 65 or have underlying medical conditions are at higher risk of suffering an acute infection of COVID-19, leading to hospitalization.
People who live in densely populated areas or multigenerational households, people who do not have the option of working from home, and people with lower access to health care are disproportionally affected.
We don't know, based on the CDC:
How long this pandemic will last
When a vaccine will be available
If COVID-19 antibodies protect you from future infection
How to best treat patients with a COVID-19 infection
The long-term health implications of a COVID-19 infection
And so much more…
As people return to work, school and leisure activities during the pandemic, while there are no guarantees, we know how we can reduce the risk of transmission—by staying home when sick, practicing physical distancing, washing hands frequently (for 20 seconds), and wearing a mask when in public. It's a matter of public health—where we look out for ourselves, our families, and everyone in our communities.