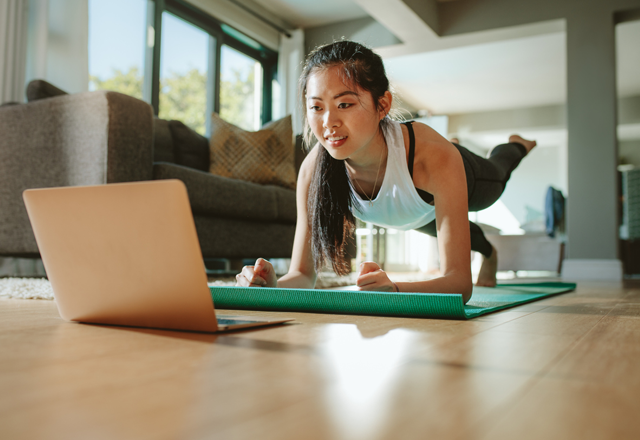 This is part of a series from the health coaches at Cambia's Lifelong Well-being team who share how to move beyond wellness to well-being. It starts with empowering people toward life balance—focusing on health status and risk factors, personal circumstances in life and career, and their unique needs—through the lens of the following pillars: optimal health, resilience, physical wellness and emotional health. 
With most gyms and exercise studios temporarily closed, many are feeling a little lost when it comes to normal workout routines. With some basic knowledge and a little creativity, you can get in some fun workouts while physically distancing.
Stick with the basics. If you're designing your own home workout, aim to include movements that mimic your natural biomechanical movement patterns. A well-rounded workout will include: Push, Pull, Squat, Bend, and Carry movements. (See infographic below for details)
Get Creative with Weights. Many items around the house can be substituted for weights. With a little creativity, a box of kitty litter, a backpack full of books, canned food, laundry detergent or even a small child or pet can become a weight. Get creative and have fun!
Find a workout buddy. Whether it's a family member, roommate or friend, having another person to do workouts with helps to keep you motivated and accountable. You can even connect digitally with a group of friends through a video chat service to create a fun group workout!
Get Outside! (Safely) Now is a great time to lace up shoes and hit the pavement. Backyards, fields and other open spaces can set the stage for some fresh air and a great workout. Make sure to take activity breaks throughout your day. A ten-minute walk is a great way to relax and reduce stress. Remember to use safe physical distancing practices!
Try a New Routine Everything is different, making this a perfect time to mix up your routine. As creatures of habit, getting stuck in a rut with an exercise regimen is easy. There are many ways to get sweating and exercising and the options are seemingly endless. Yoga, Pilates, lifting weights, calisthenics, dancing, running or biking are just a few potential options you can explore.
Staying fit during this time of social distancing is not only important for your physical health and can also have dramatic positive effects on your stress levels, attitude and mental state! Let's get sweating!