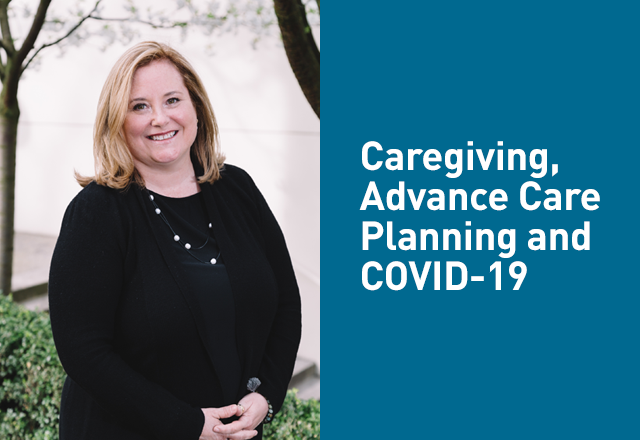 By Peggy Maguire, Senior Vice President, Palliative Care and Caregiving Solutions, Cambia Health Solutions
As the COVID-19 pandemic persists, caregiving relationships have expanded and caregivers everywhere are facing questions that many of us find difficult to answer even in ordinary circumstances. How to balance caregiving responsibilities with the demands of work, school, family, finances and personal health is more complicated now than ever before.
To better understand these challenges, Cambia utilized surveying tool Alpha HQ to learn how COVID-19 is impacting caregivers and their relationships.
Caregivers of All Ages and Relationships
The survey included responses from 400 US adults, ages 18 to 75. Of the respondents, 43% identified as a caregiver in either a primary or support role and 7% responded "not sure." This figure closely aligned with Cambia's previous study "Wired for Care: The New Face of Caregiving in America" that found 45% of Americans—nearly 100 million people—are currently caring for a loved one.
In this survey, we also asked respondents to describe the relationship to the person(s) they care for. While the typical "sandwich generation" of individuals caring for both a child and parent was apparent, more surprising was the diversity of caregiving relationships seen in respondents between ages 18 and 34. People are caring for their children, parents, grandparents, spouses, siblings, extended family, neighbors and friends.
Increased Caregiving Responsibilities Due to COVID-19
Of the self-identified caregivers, 60% said that COVID-19 has "significantly" or "very significantly" impacted their caregiving responsibilities. This came as no surprise as many households have seen dramatic shifts in how and where they spend their days, with adults working from home or newly unemployed and children sent home from schools and daycare centers. The Wired for Care study found that nearly a quarter (24%) of caregivers provide care for both a child (under the age of 18) and an adult (over the age of 18), and nearly one-in-five (19%) have both child and adult care recipients living in their homes.
When asked for more detail in how things have changed, respondents shared similar challenges:
Physical touch and social distancing: Caregiving is often a very physical responsibility. Many respondents shared challenges of not being able to physically care for or offer comfort to those outside their household. Travel limitations have also been a barrier for people who care for loved ones outside their immediate area, particularly aging parents.
Schooling: Childcare responsibilities have increased dramatically, with many caregivers supplementing distance learning programs or scrambling for appropriate care alternatives while daycare centers and schools remain closed. 
Cleaning and sanitizing: Keeping spaces clean and sanitized has become an increased burden for some caregivers, particularly for those who also assist the people they care for in practicing good hygiene and social distancing.
Increased anxiety: Alongside increased cleaning responsibilities, caregivers are also feeling a new burden to not inadvertently infect the people they care for.
Health care access: Access to medical and dental care has been a challenge for some caregivers and their loved ones, as policies for non-emergency care have varied widely from region to region. Some care recipients have struggled with telehealth alternatives.
For Some, Caregiving Remains Unchanged
On the flip side, very little has changed for some caregivers. 20% of respondents shared that their responsibilities have changed "little" or "not at all" since the COVID-19 pandemic began. While surprising, many have shared that navigating life with serious illness can actually have a lot in common with navigating COVID-19. Caregiving can be a years or even decades-long journey for some, and is often a relationship that comes with equal parts stress and joy.
One respondent elaborated that "Nothing [has changed]. BECAUSE I HAVE BEEN DOING THIS SAME THING FOR 5 YEARS NOW!!"
What's Needed Next
Designing new solutions for caregivers starts with empathy and by listening deeply to understand their needs. We asked caregivers to share what additional support they needed right now. Answers ranged from time, financial resources, emotional support, to practical assistance with shopping, meals and transportation.  Some said nothing at all.
Throughout this crisis and beyond, Cambia is committed to recognizing, understanding and supporting caregivers. We will continue our work to change perceptions, influence policy conversations and create solutions that create value for caregivers.
Links and Resources