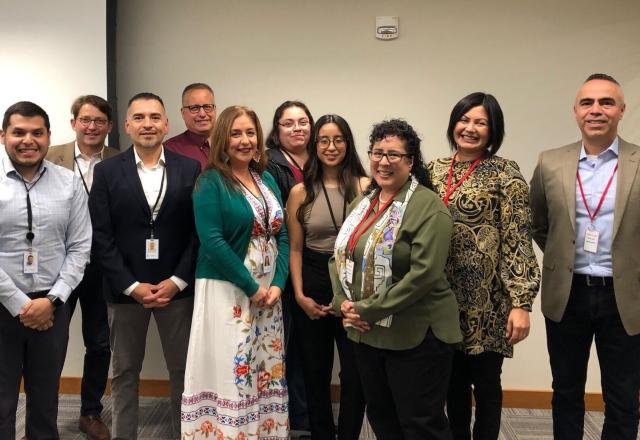 Pictured above: HOLA ERG leaders standing with panel speakers
This year's National Hispanic Heritage Month activities at Cambia began with an uplifting panel discussion with three Latinx professionals, organized by our HOLA (Home of Latinxs & Allies) employee resource group. The in-person event took place at our headquarters in Portland, Ore., and was live streamed to employees working remotely.
National Hispanic Heritage Month honors Latinx peoples' contributions to the history of the United States. It began in 1968 as Hispanic Heritage Week and expanded in 1988 to cover the 30 days from Sept. 15 to Oct. 15. The start date is notable because it marks the independence day of multiple Latin American countries – Costa Rica, El Salvador, Guatemala, Honduras and Nicaragua. The observance also includes the independence days of Mexico (Sept. 16) and Chile (Sept. 18).
The HOLA-hosted panel – Unidos: A Conversation on Education, Civic Engagement, and Organizational Mission and Culture – was a nod to this year's national theme, Unidos: Inclusivity for a Stronger Nation. Panelists included Jose Gonzalez, entrepreneur and Salem city councilor; Romanna Flores, IT systems analyst at Intel; and Dr. Erica Torres, vice president of mission integration at PeaceHealth.
As they shared their personal and professional backgrounds, a core theme emerged around the idea of lifting up your community as you find success and have more access to information and resources. "Lift as you rise," Torres noted when asked how each person could make a positive impact and help others. Each panelist offered stories about how they used their positions to help their communities.
Before becoming a city councilor, Gonzalez was active in civic life as an entrepreneur and real estate agent. He used his role as a trusted local businessperson to help his community connect with needed information about local resources, business and government. When he realized that he could have an even greater impact in a more formal role, Gonzalez ran for Salem's city council and won.
Torres worked to support her community by fostering belonging and inclusivity within the hospital system where she works. This was instilled in her when students in her high school died by suicide and she noticed that services that rallied to support the local community included no one who looked like or spoke like the people who needed the help. This experience inspired her to become a psychologist, and she wants people to know they belong, even if they don't initially feel it.
Flores noticed that children in her community who were taking mariachi lessons during the school year did not have an option to continue during the summer. She heard that these kids, eager to continue honing their skills, would meet informally to learn from tutorial videos online. In response, Flores and a business partner developed a week-long summer program for high school students to practice playing mariachi music and learn about the science and technology behind the music. The program has been so impactful that students who have since gone to college now return to the program as junior counselors, giving them the opportunity to gain experience and practice leadership skills.
When we lift as we rise, it has a ripple effect that inspires others to do the same. The HOLA ERG's work is infused with this kind of support for its members. HOLA gives Latinx employees and their allies the opportunity to meet with colleagues from across departments and locations on a regular basis to offer camaraderie and encouragement. HOLA is one of seven Employee Resource Groups that provide a forum for employees to share information, recognize achievements and interact with fellow employees. ERGs are open to all full-time and part-time employees, regardless of whether they identify with the ERG's stated constituency.