Meaningful disruption: What it Means to be First: Cambia Employees Celebrate Black History Month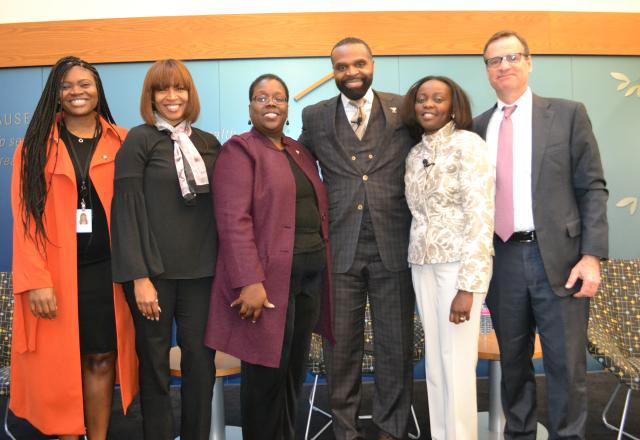 In celebration of Black History Month, Cambia held a panel discussion with Justice Adrienne Nelson, Oregon's first African American Supreme Court Justice, and Orlando Williams, president of Motus Recruiting and a former Harlem Globetrotter, for a conversation on "Meaningful disruption: What it means to be first."
The theme of "being first" was inspired by a newspaper quote from Oregon Governor Kate Brown: "Judge Nelson will be the first African-American to serve on an appellate court in Oregon and the second woman of color to serve on the Oregon Supreme Court." During the introduction, Cambia President and CEO Mark Ganz asked Justice Nelson, "How does the title of 'Justice' feel? That must be cool!" to the applause and cheers of the hundreds of employees who attended.
The discussion was led by Janet Campbell, Cambia's Chief of Staff and the executive organizer and sponsor of Cambia's African American Employee Resource Group. She opened the discussion by asking: "What does it mean to you to be in the position to lead meaningful disruption?"
Justice Nelson shared, "It's something that carries a tremendous amount of responsibility and it's also a personal moment of pride, not just for myself [but also for] those that poured into me throughout my life."
Orlando encouraged Cambia employees to embrace that even when they may be the first to accomplish or be among the unique few who make it, to also take comfort in knowing that "an individual with courage is a majority" who builds a path for others towards their dreams.  
Mark surprised everyone (including the person he was about to introduce) by asking one of the guests in the audience – Lauren Ellis, a Grant High School student and daughter of Cambia employee, Jennifer Ellis – to share what the event meant to her.
Lauren, who is also the Grant High School Student Body President, Black Student Union Co-President and Vice President of the NAACP Youth Site Council, was surprised but excited to share her thoughts as she stood up, faced the audience and took the microphone. "Change starts with people my age." Motioning to the crowd, she continued, "You gave us the foundation and the building blocks to do that…but now…it's my job and everyone's job here to continue to encourage and excite young people to get involved."
Acknowledging how lonely it can feel sometimes to be actively involved in social justice movements, Lauren reminded us that we need to "realize that it's not so much bigger than ourselves, it starts in here," pointing to her heart.