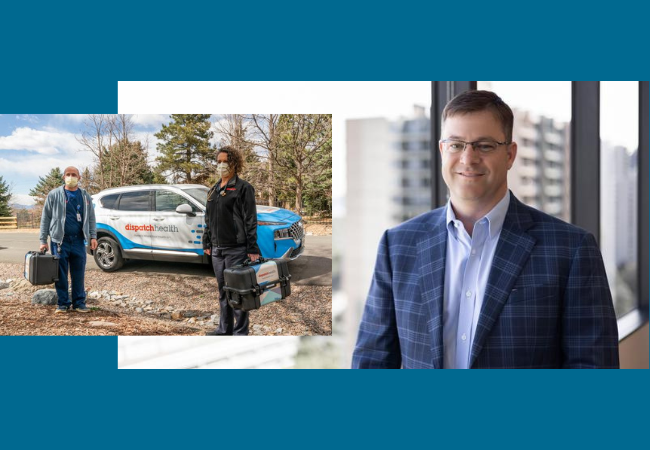 Pictured above: DispatchHealth providers (L) and Jared Short (R)
This week, the Portland Business Journal featured a conversation with Cambia Health Solutions CEO Jared Short. Since stepping into the role in January 2021, Short continues leading the company's commitment to innovation. 
From Cambia's investment strategy to the way it serves more than 3.4 million people through its six regional health plans, this commitment takes center stage. 
"It's a product of the leadership, starting with Mark [Ganz, former CEO,] and then Jared, who continues to build on that culture of trying not to let the complexities of a large organization get in the way of serving customers," said Michael Koppel, longtime Cambia board member.
Cambia's partnership with Echo Health Ventures was also highlighted in Portland Business Journal and continues to be an integral part of its mission, entrepreneurial spirit, and how the company accelerates and scales innovation. The story features DispatchHealth, an Echo portfolio company and a leading provider of in-home medical care.
When asked about Cambia's health insurance business, Short noted, "I'm very much focused on my insurance companies and how we make the experience more successful and bring more value to (members)."
Read highlights of the Echo story here.