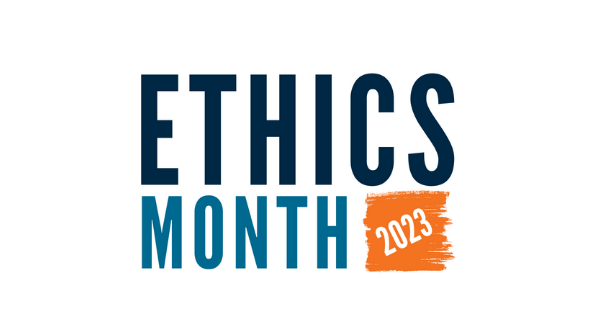 There's a reason Cambia has been designated one of the world's most ethical companies for the past six years. It's the ongoing commitment of our employees, at all levels and departments, who come to work every day to act responsibly and with integrity. Guided by our values, we prioritize taking the long view to make the right decision above making quick, short-sighted decisions.
As a part of our ongoing commitment, Cambia designates April as Ethics Month. It's an annual opportunity to review our Code of Business Conduct, complete annual ethics trainings, discuss best practices, and remind colleagues when and how to report an ethical question or concern.
In recognition of Ethics Month, we asked Cambia's director of ethics, Rebecca Nida, to answer a few questions about her team's work.
What is the history of Cambia's Ethics program?
Cambia's Ethics and Compliance program was created in 1996 by Mark Ganz, our former CEO, who served as the company's first ethics officer. As the ethics program has grown and evolved over the years, it remains more than a program at Cambia – it's embedded in all we do.
What specific work does the ethics team do? What are your main projects each year?
The Ethics team advises employees in making decisions that reflect and amplify Cambia's ethics by engaging in strategic partnerships across the organization to help frame business standards, provide resources and training, and ensure adherence to Cambia's Code of Business Conduct. This includes developing ethics training and discussion content, responding to questions, investigating reported concerns, maintaining the Code of Business Conduct, and managing the annual conflict of interest disclosure process.
What do you find challenging about this work?
When faced with ethical dilemmas, there often isn't one "right" answer. These gray areas and frequent competing priorities can make the work challenging. Despite these complexities, I appreciate that Cambia prioritizes doing the right thing for our regional health plan members and all those we serve.
What do you find most rewarding about this work?
Working for an organization that truly values ethics is incredibly rewarding. I am grateful for the opportunity to partner with and support Cambia teams, leaders and employees in navigating the ethical decisions and situations we face every day.
Why is it important for companies like Cambia to be this committed to ethics?
Business ethics help govern how companies operate. They guide actions and decisions, help determine how to proceed when faced with dilemmas, and influence interactions with stakeholders. At Cambia, our healthy ethical culture strengthens our ability to achieve our Cause – to serve as a catalyst to transform health care, creating a person-focused and economically health care system.