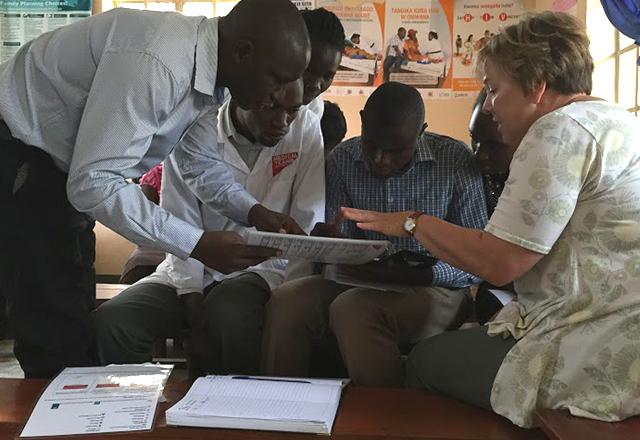 An Android application was the first step to a health management solution created in partnership by Cambia and Medical Teams International. However, the real accomplishment is found in people's lives: providers using the app can be more efficient in their daily work, and patients receiving the care they need at the time they need it most.​
Last November, we followed Cambia employees Ivan Lebed and Cathi Row as they traveled to Uganda with Medical Teams to implement an Android app for medical records and patient data You can read Part I and Part II of their experiences training staff and observing how the app was used in real time.
We recently caught up with Ivan and Cathi to learn more about their experiences, their takeaways and progress on the app's development.
Reflections from Ivan and Cathi
A "typical" day in Uganda began early with variable shower temperatures (if water was available), local food like matoke (a type of starchy green banana) served with goat or beef, and long drives on bumpy roads. However, it was the hours spent with clinicians and patients one-on-one that helped Ivan and Cathi see how the cause of simplifying and personalizing health care is profoundly needed.
Says Cathi, "I was emotionally impacted by a mom with a nearly three-year-old child who received a diagnosis of cerebral palsy. She showed no emotion or reaction; it was a fact of life to her – yet very hard for me.  Even though I was relatively well prepared by co-workers who went last year, I was most surprised by the strength and perseverance of the people who live here. The people I worked with, side-by-side, were employed in good jobs, but don't have access to much. Yet at the same time, they face adversity with happiness and hope and are open, welcoming, helpful, and passionate about the work they do."
"I did not expect the people's optimism," says Ivan. "Going into Uganda I didn't realize how uplifting the experience would be. Even in difficult economic situations people find ways to innovate. I saw creativity in all aspects of Ugandan life—from agriculture and transportation to education and politics. Having spent time amongst the people of Uganda, I leave full of hope, knowing that innovation here thrives in good spirit."
Next Steps for the App Development
Cambia and Medical Teams' development teams regrouped in early December for a focused development sprint to resolve issues found in the application during the November implementation. When the new version of the application was rolled out to Uganda users, the team received great feedback—one clinician successfully used the new version to diagnose 81 patients its first day of use.
The project continues to receive positive responses from clinicians, Medical Team's Ugandan technical staff, the UNHCR, and the Ugandan Office of the Prime Minister (OPM.)
To learn more about this project, check out the following: