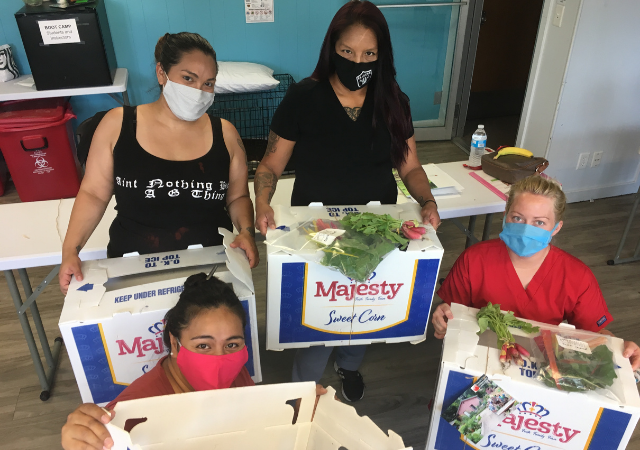 During one of the toughest years on record, learn how Cambia's philanthropic partners, have helped make life a little easier for thousands of people in need.
Through December, we'll highlight the work our nonprofit partner organizations have been doing and how they have utilized Cambia's contributions in three areas where the impact to people and families has been great: food insecurity and nutrition; housing and homelessness; and substance misuse prevention and mental/behavioral health. 
Read on to see how the programs Cambia supports have helped to address homelessness and housing insecurity in our local communities.
Wasatch Community Gardens – Salt Lake City, Utah
Funds provided by Cambia supported Wasatch Community Gardens' job training program, which provides farm-based employment and job training for women living in poverty. In addition to serving program participants, the program provides fresh, organic produce to low-income individuals and families.
The job-training program has two components: Green Team and Seeds of Success.
Green Team is 10-month program that provides employment and mentoring to women experiencing homelessness. Participants are paid to work at the organization's Green Phoenix Farm four days per week. In addition to growing, eating and preparing fresh, healthy food, they work to restore their sense of confidence and learn to take care of their bodies and minds through regular physical activity, yoga, meditation, and mindfulness. Through the program's partner, Advantage Services, they receive one-on-one assistance to secure housing and permanent employment.  
Seeds of Success is a career-training and placement program for low-income single mothers. The program relies on the power of women working in groups. Participants receive 10 weeks of free job training through an outside trainer, along with job placement assistance in high-demand career fields; this year the program offered Certified Nurse Assistant (CNA) classes, which were conducted online due to the pandemic. Participants also worked at the farm alongside Green Team participants.  
Due to the pandemic, both job training programs had to reduce the number of participants they could serve this year. Nonetheless, more than half of the women who completed the programs in 2020 have found employment. 
Watch a short video about Green Phoenix Farm.
Habitat for Humanity Portland/Metro East – Portland, Ore.
Habitat for Humanity Portland/Metro East has been working for 40 years to build affordable homes for low-income residents dealing with inadequate, unhealthy or damaged housing. The organization is part of a global nonprofit that operates in 70 countries worldwide. Rather than providing free shelter, Habitat gives families and individuals an opportunity to achieve strength, stability and self-reliance through homeownership.  
Funds provided by Cambia helped Habitat for Humanity Portland/Metro East to continue construction of 42 homes in North and Northeast Portland amid the financial upheaval caused by COVID. Families will soon be able to purchase the homes, and more than 120 people will have stable, affordable housing for the future and safe shelter for the remainder of the pandemic.
Safety requirements during the pandemic have drastically reduced the organization's ability to partner with volunteers, which has raised the cost of new-home construction. With plans to triple the number of people it serves every year, Habitat for Humanity Portland/Metro East is expanding its fundraising efforts for 2021 to keep construction moving forward in the difficult months ahead. 
Read about Delores, a Habitat homeowner who is returning to the neighborhood she was forced to leave 47 years ago when the City of Portland used eminent domain to take her childhood home under the terms of an urban renewal plan that displaced thousands of Black residents. 
Habitat for Humanity Tacoma/Pierce County – Tacoma, Wash.
As part of its mission to make home ownership attainable and sustainable, Habitat for Humanity helps people remain in the homes they already own. Habitat for Humanity Tacoma/Pierce County used funding from Cambia to help seniors, veterans and people with disabilities age safely and comfortably in their own homes and communities.
Last year Tacoma Habitat expanded its construction activities to include an Aging in Place Home Repair Program. The program offers home repairs and modifications for homeowners over the age of 60 who might be vulnerable to housing displacement because of health issues, lack of mobility or decreased physical capacity to perform their own home maintenance. 
Aging in Place has been providing critical home-repair services for Medicaid clients since late 2019, and this spring a trial open-enrollment program was introduced to include senior homeowners earning up to 80% of the area median income. Repairs are provided at little or no cost to homeowners who demonstrate need. 
Since May, Tacoma Habitat has completed 10 Aging in Place Home Repair projects, with a goal of finishing 15 more by June 2021
Tacoma Rescue Mission – Tacoma, Wash. 
In July, just 10 months after breaking ground, the Tacoma Rescue Mission completed construction of a new 12,000-square-foot 120-bed emergency shelter for unaccompanied homeless women in Pierce County. Cambia was one of the 1,240 individuals and organizations supporting the $4.7 million campaign to build the facility. 
In the first month after opening its doors, the shelter coordinated efforts to extract two women from a sex-trafficking operation, supported mothers who wanted to begin the process of regaining custody of their children, provided a place to recover for a hospital patient who was being discharged with nowhere to go, and offered refuge for many who were living on the streets. Other women who opted not to stay overnight came to the shelter to use bathrooms, showers and laundry facilities. 
The mission is still working to complete funding. 
Did you miss the first article focusing on food insecurity and nutrition? Read Season of Giving and Gratitude: Addressing food insecurity in our communities now.