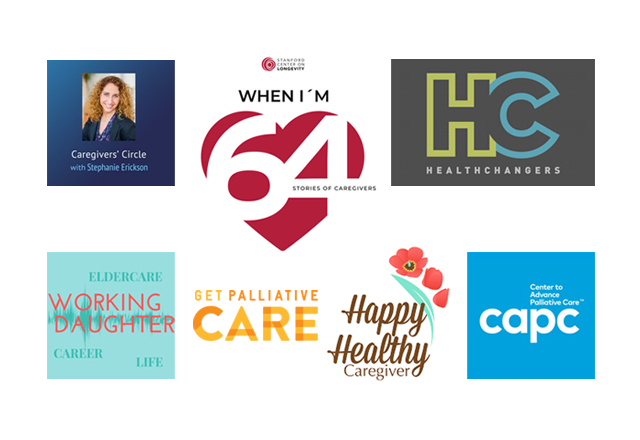 According to The Verge, the amount of podcast content streamed by users on the popular streaming app Spotify has more than doubled since the COVID-19 pandemic began in March. Throughout quarantine, millions of people across the U.S. have looked to podcasts for storytelling, information and education on new topics they may not have learned about otherwise. Podcasts provide us with an easily digestible way to learn about the world around us while continuing to go about our day-to-day lives. 
In celebration of both National Caregiver Month and National Palliative Care Month, we want to highlight seven podcasts made by and for caregivers. 
Get Palliative Care
On Get Palliative Care, hosted by the Center to Advance Palliative Care, we hear from a different guest each week about their experiences living with serious illness, as a patient or as a caregiver. We hear stories from patients like Sarah, a young woman who was diagnosed with metastatic colon cancer at only 34 years old and built her own makeshift care team to ensure that she got well-rounded, quality care. One friend observed, "That sounds like palliative care." 
When I'm 64
How do celebrities take care of their aging parents? How are members of Gen-Z tackling entering the adult world while simultaneously acting as a caregiver for a loved one? What have we learned about caregiving since the beginning of the COVID-19 pandemic? When I'm 64, a new podcast produced by the Stanford Center on Longevity, answers these questions and others with special appearances from guests like Seth and Lauren Miller Rogen. 
Happy Healthy Caregiver
Staying well can be a challenge on its own, especially when you're tasked with caring for the wellness of a loved one. Every other week on Happy Healthy Caregiver, host Elizabeth Miller invites a caregiver to share the story of their caregiving journey — caregivers like Geoff Grant, who has served as a caregiver in two unique contexts, caring for his mother after her stroke and later for his wife after her mesothelioma diagnosis. Geoff shares his experiences with caregiver burnout and tips on caring for yourself while caring for others.
HealthChangers
Presented by Cambia Health Solutions, HealthChangers explores the different facets of health care, caregiving and palliative care. With each episode, listeners have the chance to learn about the state of health care from leaders in health care, non-profit board members, innovators, start-up founders and palliative care professionals. In the third part of a three-part series highlighting the stories of caregivers during the COVID-19 pandemic, President of the Cambia Health Foundation Peggy Maguire and Dr. Ranak Trivedi discuss the importance of culturally appropriate care for patients living with serious illness. 
The Working Daughter Podcast
Achieving a work-life balance can be tricky, especially when you're a caregiver for an aging parent. On The Working Daughter Podcast, longtime marketing executive, author and host Liz O'Donnell shares perspectives on issues faced by women who have the responsibilities of being both a full-time working professional and a full-time caregiver. Stream her insights on being a caregiver to her elderly parents while also needing to care for her young children and what it's like to be a member of the "Sandwich Generation." 
Caregivers' Circle
On Caregivers' Circle, host Stephanie Erickson answers questions like how to be the best parent when caring for a child with mental illness or how to transform caregiver guilt into wellness. Hear her perspective on being supportive and providing care to teens living with mental illness in part one of her two-part series.
CAPC Palliative Care Program Spotlight
With each episode, The Center for Advancing Palliative Care's CAPC Palliative Care Program Spotlight podcast shares a different exploration into topics surrounding palliative care, led by leading professionals in the field. Stream their podcast to learn how music can play a key role in dementia care, how to embrace change and innovation in palliative care and more.