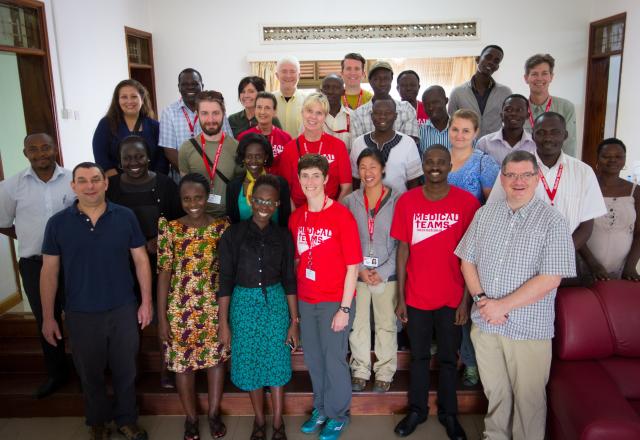 By Lisa Honebrink, Strategic Communications
On day three in Uganda, the IT team foregoes the field visits to focus on the tech solution in their workroom in the hotel. An array of sticky notes fills an entire wall and columns of notes are scribbled on a large presentation pad on an easel.
The small communications team follows the original schedule for the day and drives about an hour to the first refugee health center Medical Teams International established in southwest Uganda in 2008. Then there were only tents for a health clinic. Today, there is a health clinic, a maternity building, nutrition services, HIV clinic and outreach services with home visits to those who can't make it into the clinic. This health center serves mainly Congolese.
We start our tour in the maternity building.
We walk into a room filled with two rows of four beds lined against opposite walls, with a narrow aisle in the middle. Space between each bed is sparse. At the far end of the row a pregnant woman sits at the edge of her bed. Already a mother of five, she knew it was time to come in and is waiting for labor to begin. Two other women have had their babies within the last few hours, so they lie with their swaddled newborns nestled close, being monitored before they are released. Two pregnant women have malaria and are described as "very ill, in an extremely dangerous situation for both mother and baby."
We are led across the narrow lobby into another room, where an HIV-infected mother is holding her baby. As this mother didn't visit the Medical Teams clinic for pre-natal care or delivery, she was unaware she was HIV-positive throughout her pregnancy and then began breast feeding her newborn. When she finally visited the maternity clinic for follow-up care, the clinicians discovered her HIV status and tested the baby for infection. It will take two weeks to learn the result.
We exit this building to walk the short distance across the dirt courtyard to the health clinic. There, a boy of about 10 years old with a bad cough is being seen by a doctor. We learn the boy has had to walk there on his own, as his parents are farmers and must work in the fields today. A chicken appears through one open doorway, struts between benches of refugees waiting to see the doctor, and out the other open door, back into the courtyard from where it came. None of the refugees blinks an eye.
Medical Teams staff from the maternity building walks in to tell us the mother of five has begun labor and is in the delivery room. We are invited to stand outside the door. The woman is sitting up on the delivery table, a nurse rubbing her back. As we leave to give her privacy, we discover where the chicken went, as one of the clinicians is chasing it from this building's lobby.
"Cambia has come at the right time to partner with Medical Teams," says Felix Omodi, Medical Teams Uganda director. "Having your team here is a way to expose my staff to new technology, and we are eager to grab whatever we can learn."
Before the maternity department existed, refugees in the settlement were delivering at home without assistance from a midwife or medical professional. Friends or family members did not understand how to assist with a normal delivery, let alone a breach baby or how to recognize when complications required immediate medical attention. As a result, too many mothers and babies died. Too many women who should have had C-sections, but endured delivery without, were horribly injured. A woman who volunteered at the health clinic in 2011 heard these horror stories and made a generous donation to Medical Teams that allowed the maternity building to be built in 2012.
"Our maternity department is the heart of the health center," said Racheal Kyalikoba, Medical Teams Uganda volunteer coordinator. "This is where the children of this settlement get their start. This is the future of our nation. Mothers get care here and their children get care that will help them live better lives."
Visit our Oct. 28 blog post, Cambia Technology Experts Travel to Uganda to Aid Health Refugee Clinics, visit our Facebook photo album for new trip photos, and stay tuned for one more blog post from Uganda.
Photo by Mark Goodnow for Cambia