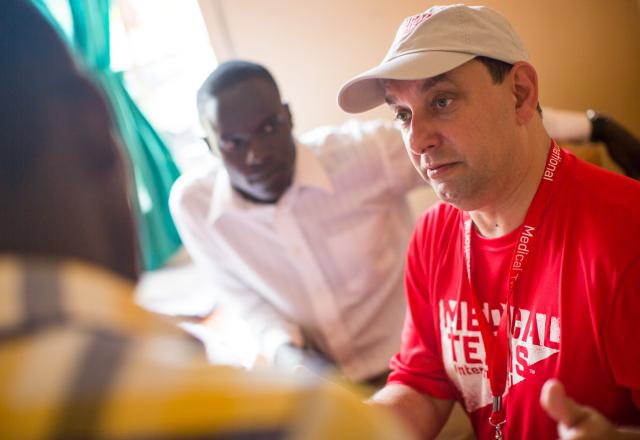 By Lisa Honebrink, Strategic Communications
It's our first day on the ground in Uganda.
The landscape is lush, the air moist. We find the Ugandan people to be gentle and soft-spoken, ready with big smiles and warm welcomes.
Before our first visit to the refugee settlement health clinics, in keeping with government protocol, we make "courtesy calls" to each of our hosts. Stop number one is the Medical Teams International office, where Felix Omodi, Medical Teams International Uganda Country Director, and Dr. Patrick Okello, SW Program Manager Uganda, introduce us to their full staff.
"We are very happy you are here. We are very optimistic about your project to help ease the work we do, especially in data collection," said Dr. Okello.
After a one-hour drive, the next courtesy call is to the Uganda Ministry of Health office, followed by the UNHCR (United Nations High Commission Refugee) office, both on the refugee settlement property. Every member of the Cambia and Medical Teams team is invited to introduce themselves and sign a guest registry.
Finally, we leave the administrative area and turn into the gates of the first health clinic we'll visit this week. We're ready to begin seeing for ourselves Medical Teams' health care work here and to get the "discovery" part of this discovery mission started.
Visit our Oct. 28 blog post to learn more about our trip to Uganda, visit our Facebook photo album for trip photos, and stay tuned for more blog posts from Uganda.