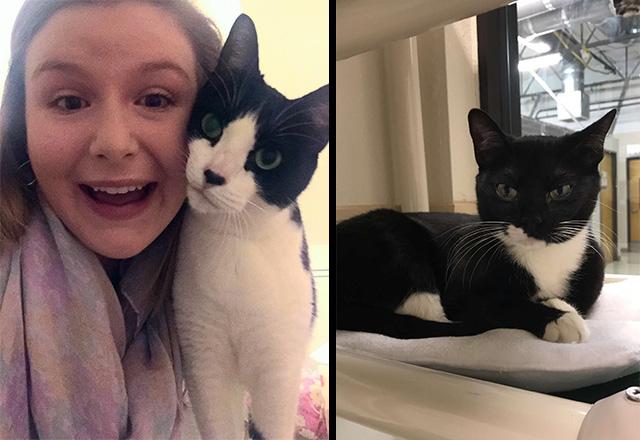 At Cambia, our commitment to building healthier communities ties back to our company's founding 100 years ago. To honor our heritage, we set aside the entire month of August as a Month of Giving. Across the company's four states, employees are volunteering their time to help support the communities where they work and live. During the Month of Giving we are highlighting stories about how our employees volunteer their time, why they do it and the impact it has.
Cambia employee Hallie White didn't have any pets when she was growing up and never knew that having one might bring joy to her life. Two years ago her brother, who had two cats and a dog, moved overseas for work but wasn't able to bring his pets with him. Hallie took the opportunity to adopt her brother's cat, Oreo.
After adopting Oreo, she quickly became close with him and was introduced to the Cat Adoption Team in nearby Sherwood, Oregon. The facility is a no-kill non-profit shelter and hospital that takes cats from all over the country and relies heavily on volunteers to run the organization. After learning about how the shelter works, Hallie jumped at the opportunity to volunteer to become an adoption counselor.
"Being an adoption counselor is a very rewarding experience," said Hallie. "When people are interested in adopting a cat from the Cat Adoption Team, they don't just walk in and randomly adopt any cat. I get to know the potential adopter to better understand their lifestyle and work to find a good match. Some cats need a lot of attention, others may be older and need a quiet environment, while some don't interact well with other pets. It's my job to find the best match for both the cat and the person or family that wants to bring a pet into their home."
One adoptive couple in particular left a lasting impression on Hallie.
"A couple came into the shelter and said that they had taken care of two blind cats for many years but both cats had since passed away. The husband even had a tattoo with the names of both cats. They had no kids and it was clear that they were a special couple since they'd gone to such lengths to take care of two blind cats. As it turned out, we had two stray male kittens who were brothers and both were semi-blind. When I introduced the couple to the kittens, they started to cry. The cats, Grayson and Pinto, now have a loving home and they even have their own Facebook page."
Hallie believes that helping pets in need is a wonderful way to not only support people who want to bring a pet into their home, but also to help the community, too.
"It brings me a tremendous amount of joy to give these beautiful animals their life back."