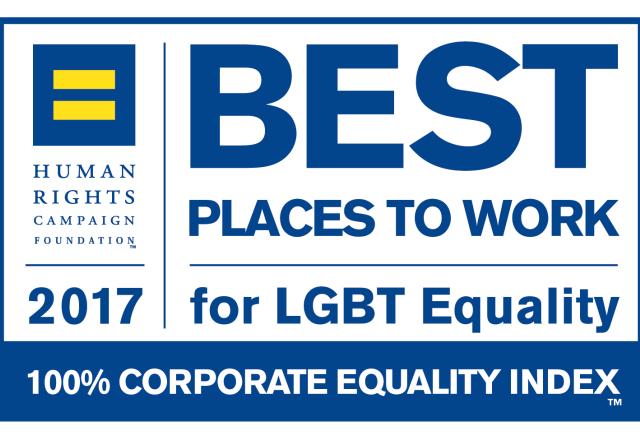 PORTLAND, Ore., December 5, 2016 – Cambia Health Solutions is proud to announce that it has received a perfect score of 100 percent on the 2017 Corporate Equality Index (CEI). CEI is a national benchmarking survey and report on corporate policies and practices related to lesbian, gay, bisexual, and transgender workplace equality, administered by the Human Rights Campaign Foundation.  Cambia Health Solutions joins the ranks of 517 major U.S. businesses which also earned top marks this year.
One of Cambia's core values is collaboration; promoting diverse voices, experiences and perspectives in order to achieve more together. As a consumer-focused organization that serves diverse members and communities, Cambia works to ensure their workforce is representative of those they serve.

"We're incredibly proud of this distinction as it is a testament to the hard work of our employees and the progress we have made," said Chip Terhune, vice president of Business Strategy and executive sponsor of Cambia's PRIDE Employee Resource Group. "Although a score of 100 is something to celebrate, we are not done improving. Cambia is committed to creating a diverse and inclusive work environment that welcomes all employees."
The 2017 CEI rated 1,043 businesses in the report, which evaluates LGBT-related policies and practices including non-discrimination workplace protections, domestic partner benefits, transgender-inclusive health care benefits, competency programs, and public engagement with the LGBT community. Cambia's efforts in satisfying all of the CEI's criteria results in a 100 percent ranking and the designation as a Best Place to Work for LGBT Equality.
For more information on the 2017 Corporate Equality Index, or to download a free copy of the report, visit www.hrc.org/cei.
The Human Rights Campaign Foundation is the educational arm of America's largest civil rights organization working to achieve equality for lesbian, gay, bisexual transgender and queer people. HRC envisions a world where LGBTQ people are embraced as full members of society at home, at work and in every community.
About Cambia Health Solutions
Cambia Health Solutions, headquartered in Portland, Oregon, is a nonprofit total health solutions company dedicated to transforming health care by creating a person-focused and economically sustainable system. Cambia's growing family of companies range from software and mobile applications, health care marketplaces, non-traditional health care delivery models, health insurance, life insurance, pharmacy benefit management, wellness and overall consumer engagement. Through bold thinking and innovative technology, we are delivering solutions that make quality health care more available, affordable and personally relevant for everyone. To learn more, visit cambiahealth.com or twitter.com/cambia.