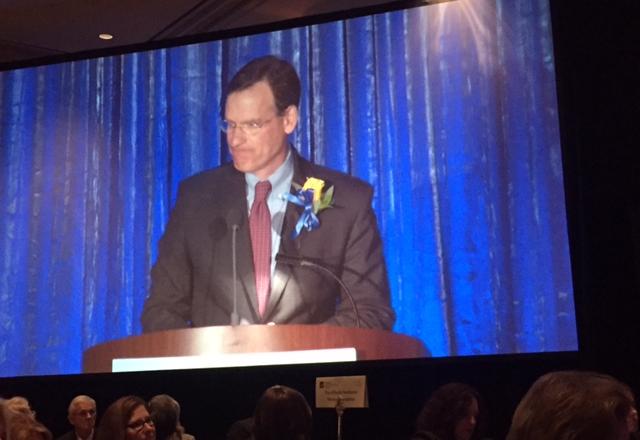 "Our delight in working with nonprofits comes from the fact we're a nonprofit as well" said Mark Ganz, President and CEO of Cambia Health Solutions as he accepted the AFP Outstanding Philanthropic Corporation award on behalf of the company.
Mark explained that Cambia draws a lot of inspiration from those who founded the company back in 1917.  These weren't business people, but timber workers who came up with the idea to pool a percentage of their weekly wages in case of injury or sickness. 
These men who worked in the logging camps of the Pacific Northwest were innovators who didn't come up with an idea to make money, but to ensure the wellbeing of each other. It was an idea based on neighbor helping neighbor, founded on the simple concept of humanity.
Humanity is also what inspired Cambia to define our Cause to transform health care, which is realized by the company's philanthropy, honoring that idea of neighbor helping neighbor.  Through this commitment, Cambia is driven to partner with innovative organizations such as the Oregon Food Bank and Friends of the Children.
Cambia recently took our Cause global, to a Ugandan refugee settlement.  Seven Cambia IT employees joined a team from Medical Teams International to find a technology solution to increase accuracy and reduce the time it takes to transmit critical data between Medical Teams' health clinics and to the United Nations. 
As Mark said, "Cambia's job is to look around to see where the greatest health care needs are and to lean in to help, applying what we've learned to solve the problems of the future – our philanthropy is no different." 
Through the company's work in the community, Cambia hopes to provide assistance to those who need it most and to inform our own thinking about what we can do to improve the quality of health care whether it's down the street…or across the globe.
Cambia is truly honored and humbled by this award and we thank AFP and our community partners for this recognition.  Thank you from our hearts to yours.