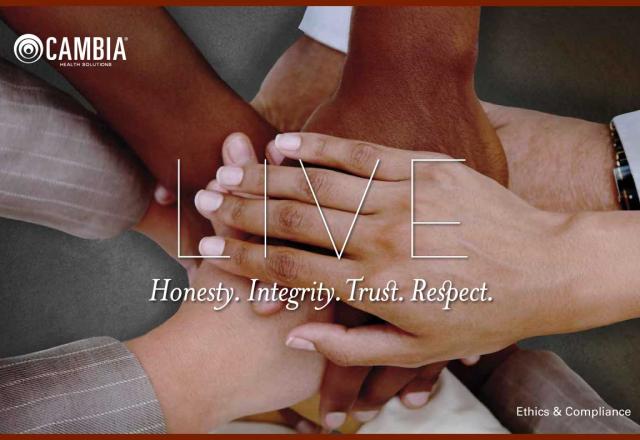 In our current climate, where the question of ethics and moral dilemmas often emerge, having a standard that you can refer to in your decision-making process can be invaluable. The concept of ethics can mean a lot of different things for many people, but at Cambia, we are guided by our Cause to transform health care. Our commitment to employees and consumers is to never lose sight of doing what's right for those we serve.
Cambia Health Solutions has been honored as one of 2018 World's Most Ethical Companies® by the Ethisphere Institute. Cambia shares this honor with fewer than 100 other companies in the United States. Per the Ethisphere Institute, the awarded companies are those "who recognize their role in society to influence and drive positive change in the business community and societies around the world."
Cambia was recognized for our deep involvement with our stakeholders and our communities as well as our role in improving culture, leading authentically, and committing to transparency, diversity and inclusion.
Our Cambia team is honored to be recognized as one of the 2018 #WorldsMostEthicalCompanies by @Ethisphere tonight in NYC. #WeAreCambia pic.twitter.com/5L15hmfb86

— Cambia Health (@Cambia) March 14, 2018
"We are humbled by this honor and strive to earn the trust of the people we serve every day," said Mark Ganz, president and CEO of Cambia Health Solutions. "We have learned over the years that creating an ethical environment is the result of far more than compliance programs and codes of conduct. We are relentless about articulating, modeling and holding each other accountable to our values. We are a human organization, and therefore will make mistakes. The key is to be honest with ourselves, to take swift action and learn from those experiences."
Our company has a long history of ethics in action, believing how we do things is just as important as what we do. One hundred years ago, we were founded in the forests of the Pacific Northwest as loggers came together to pool their wages to take care of each other if they were sick or couldn't work. It's one of our nation's earliest examples of employer health insurance. Last year was our centennial, and we honored our founders by continuing that ethical spirit of neighbor helping neighbor in new and innovative ways to solve for health care needs today – and tomorrow.
Congratulations to the other companies honored through this announcement and all those who submitted a nomination.
For more information on Cambia's Values, Ethics & Compliance, visit https://www.cambiahealth.com/about-us/values-ethics-and-compliance