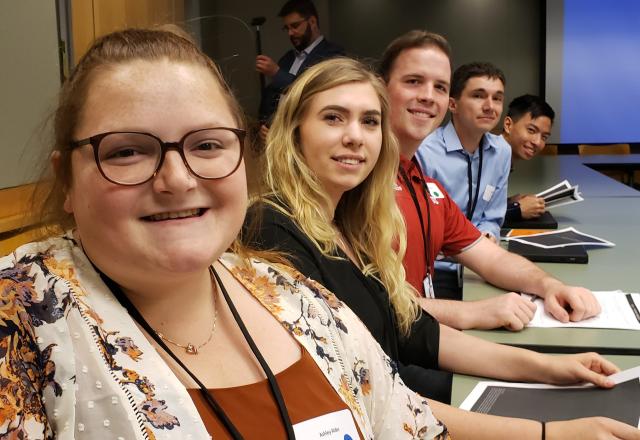 Photo caption: Ashley Alder, Brenna Siltman, Ben Knowlton, Daniel Domme, Junmin Yee  
By Ashley Alder, Cambia Strategic Communications Intern
On the first day of my internship here at Cambia, I sat down for my orientation and learned how Cambia is a 102-year-old start-up that is truly based in innovation and the principle of neighbors helping neighbors.
Learning about the company's Cause, I see how listening to people's needs and designing a system around them, is an integral part of serving as a catalyst in transforming health care. As an intern, I am excited to be working with a company who values their employees' opinions and recognizes that developing solutions to problems means involving the human experience in all steps of the process.
Interns Brainstorm Human-Centered Health Care Ideas
At the sixth annual Intern Innovation Challenge, we had the pleasure of listening to Cambia's Chief Innovation Office Mohan Nair. Before this, I wasn't sure if I believed an intern could have a true impact on a company, but Mohan said, "I believe everyone is an innovator, and that role is a responsibility. You can choose every morning to effect the way the future drives."
This year's innovation challenge focused on identifying the pain points in the health care experience of young people, and in turn, brainstorming solutions on how to make health care better for ourselves and other young adults.
"The future is defined by people or teams who can recognize problems, recreate their environment and find solutions."
― Mohan Nair, Cambia's Chief Innovation Officer
Small groups of interns were formed, and as conversations grew, I saw what Mohan sees ― that everyone from the executives to the interns have not only a chance to make an impact in this company, but a choice. During the challenge, multiple teams of interns created and pitched innovative startup ideas to the group.
Applying Lived Experience to Health Care Solutions
My team came up with a way to fast-track the onboarding experience when a young person goes to the doctor's office, or emergency room as a way to relieve stress on young people navigating health care for the first time as adults. Now that the challenge is over, our ideas have been shared with the company. All Cambia employees now get the chance to comment and vote on our ideas, as the top three teams will get to present their ideas to Cambia's Innovation Force leadership.
I know that because of this challenge I will carry the spirit of innovation with me throughout my career, whether it be during my time at Cambia or elsewhere. I now believe that anyone can be an innovator, and it is my responsibility to share my ideas, listen to others, and in turn transform the world around me.