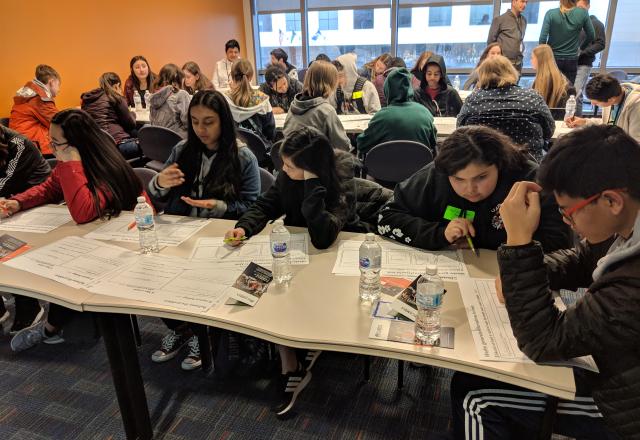 Public schools and health care share more common ground than you would think: both share federal oversight and regulation, address universal needs, have funding issues, and inspired nonprofits to fill in the gaps to create positive change.
One organization, the Road Map Project, focuses on empowering South King County (Seattle, WA) students who disproportionately experience the school system's shortcomings, including:
55 percent of students are low income
4 percent are homeless—2.5 times more than in 2010
89 percent desire a college degree or career credential
29 percent earn a college degree by their mid-twenties
Boots on the Ground
This spring, through a partnership between Cambia and the Road Map Project, Thomas Jefferson High School students joined Cambia for a behind-the-scenes look at the work, challenges and inspirations our employees encounter in the health care industry.
Cambia panelists included Kendal Kemery, public relations coordinator, Briana Ledesma, Medicare provider liaison, Nancy Harris-Alexander, account executive, Dijana Steward, technical project manager and Tamara Tiggs, SVP provider of customer service, on how they joined Cambia, their day-to-day responsibilities in working toward health care transformation, and the career path bumps and detours along the way.
The topic of human-centered design was a main theme, as students were challenged to think of problems and solutions in their every day lives and how that same process could be applied to making health care better.
Today at our #Seattle office, we were honored to host a #WorkSiteTour for future leaders from the Thomas Jefferson High School in Federal Way. Thanks to @RoadMapProject for coming out and learning about human-centered design with us. #futureleaders #Hope4HC pic.twitter.com/oukCvSLTYo

— Cambia Health (@Cambia) March 7, 2019
From the Mouths of Babes
"Can anyone in this room think of a time when they used a product or service, and realized it didn't function as well as it could have? Maybe it actually was perfectly designed – just for somebody else?" said Michelle Schwartz, diversity and university programs manager. 
"Sometimes I'll see sliced pineapple in plastic containers sold next to whole, cheaper pineapples," one student responded. "I don't get it. Fruit literally comes with its own packaging. It's biodegradable."
Michelle works closely with Cambia's internship program, grounding students in a deep understanding of each of the health care system's five sectors: Patient, Payers, Providers, Policymakers and Purchasers.
"We were grateful to welcome students from Thomas Jefferson Highschool and share our vision for transforming health care. Their excitement and passion were contagious, and we hope to see them return as interns in the coming years," said Michelle.
For more information on Cambia's internship eligibility and the application process, please visit the program homepage. To learn more about the Road Map Project's mission to make education equitable for students in the South Seattle region, please visit www.roadmapproject.org.