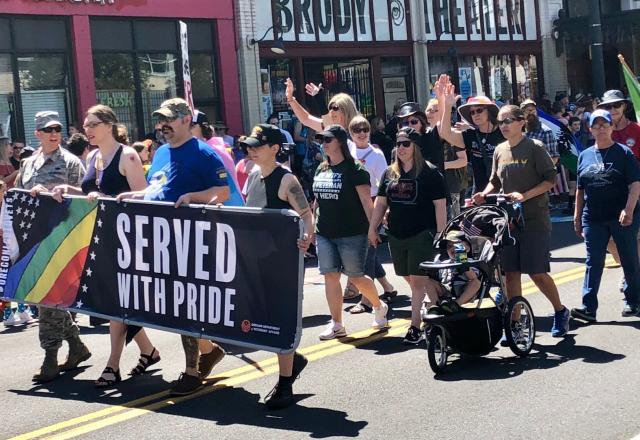 Nathaniel Boehme's ability to quickly read the room and the anxieties of others, was something he'd perfected over the course of his life and career as a closeted gay man in the Air Force, under the "don't ask, don't tell" (DADT) policy that barred openly gay people from serving in the military. Even as he fought alongside fellow servicemembers, he surgically sheltered his feelings and private life from others. "I served in Iraq in 2005 to 2006, and I was willing to die protecting my unit, but how could I trust them with my life in battle if they saw me as subhuman?" questioned Nathaniel. 
During PRIDE month, Cambia's PRIDE and Military Employee Resource Groups (ERGs) partnered to pay tribute to the over 75,000 LGBTQ people serving in the U.S. military and one million plus LGBTQ veterans to openly honor their service and sacrifice. 
Cambia ERGs empower members of our workplace community to give back and get involved with the causes they're passionate about, while also recognizing achievements and interacting with fellow employees and outside organizations.  
Special guest speakers Nathaniel, the LGBTQ Veterans Coordinator with the Oregon Department of Veterans' Affairs, and Cambia employee and Lynnette Carey, shared some of their insights as military veterans who served under the DADT policy. They also spoke to their hopes for the future and what motivates them to continue to advocate for equity.  
Being Gay in the Military and Hope for the Future
Nathaniel, who is a cisgender gay man and lives in Portland with his husband, is currently enlisted in Oregon's Air National Guard and is a 17-year veteran of the U.S. Air Force and an Iraq combat veteran. With more people serving openly, he relayed his optimism for a more inclusive military.
He encouraged Cambia employees to watch the Oregon Department of Veterans' Affairs-sponsored documentary, "Breaking the Silence: An Oral History of Oregon's LGBTQ Veterans and Servicemembers," which explores the lives of five Oregonians, who not only served their country honorably but were forced to serve in silence and at great risk to themselves, their careers and their families.  
Despite Hardships, Childhood Dreams Come True
With her boisterous voice and energy, Cambia employee Lynnette, an 8-year Air Force veteran, shared the beginnings of how she developed her strong sense of self. "When I was 16-years-old, I knew two things: that I had red hair and I loved the Air Force," said Lynnette.
During the DADT era, she felt the double-negative impact of being a woman and a closeted gay person. She felt a sense of patriotism but was surrounded by a culture that openly rejected the truest parts of her identity. "No matter what I did, I was going to be living a lie," she said, "because nobody wanted me there."
Pointing to photos of her wife and children, Lynnette revealed the source of her strength, "This is why I fight. So that those closest to me, would have the ability to have freedom and be who they are."
By supporting a diverse and inclusive workplace, Cambia ERGs and events are helping to ensure the many experiences of our diverse consumers and communities are reflected in our decisions and actions. Learn more about Cambia's commitment to diversity and inclusion and consider joining the Cambia team.