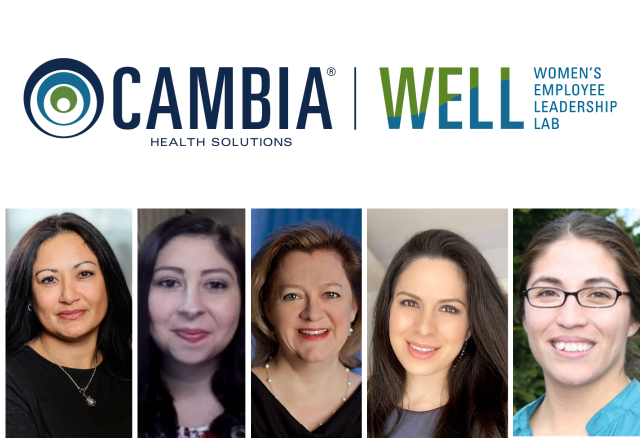 March is Women's History Month! Members of Cambia's Women Employee Leadership Lab (WELL) employee resource group celebrate by sharing their stories and what inspires them.
WATCH: Cambia's WELL ERG Leaders Celebrate #WomensHistoryMonth
As we celebrate Women's History Month, hear from inspirational women at Cambia creating a history to be proud of — while transforming health care for a better tomorrow. Read some of our employee stories below.
Celicia Yeoman
Who is a woman leader in history or currently who inspires you?
How can I choose just one woman who inspires me? There are so many. A few that immediately come to mind are Harriet Tubman, Rosa Parks and Dolores Huerta. Taking a stand and speaking up takes an immeasurable amount of courage, yet they persevered. Their actions led to movements which had an impact on so many individuals and generations to come.
Coming from a family of farmworkers, Dolores Huerta's story and work was one that I grew up knowing, given our family regularly took part in marches for farmworkers' rights. She is considered one of the most influential labor activists of the 20th century and co-founded the United Farm Workers Association.
At 90 years old, she continues to advocate for the working poor and speaks out about social justice and public policy. More recently, I've been inspired by the women of the WNBA and members of the USWNT, like Megan Rapinoe and Crystal Dunn, who use their platform to bring awareness and change to issues that not only affect them, but all women. Courageous women will always be an inspiration to me, but I also want them to be an inspiration to my children - not just my daughter, but my sons too. My 10-year-old son loves soccer, so together we watch the NWSL and USWNT play. I want him to know that these women are just as important as men to the game of soccer.   
What women are inspirational to you at Cambia?
All women at Cambia are inspirational to me. Each person has their own set of circumstances and life experiences that make them unique. Whether she's a working mother, serving as a caregiver for an aging family member or fighting the patriarchy issues that women inherently must endure in society - they all inspire me. Seeing the toll COVID-19 has had on women is eye-opening. Those systemic inequalities have crept to the surface in what I would have considered a normally 50-50 split in my own home. I hold all women at Cambia in high regard, and always will.   
 
Lisa Murphy
What has helped you advance your career at Cambia?
We all like to think we advance because of our contributions, but the truth is, it helps when someone notices and connects with us. Sometimes it's a mentor, but when we get lucky, it's a sponsor. Sponsors don't just provide guidance: they become personally vested in, and advocate for your development and opportunities. I am fortunate that John Attey (Cambia Executive VP and Chief Legal Officer) was not just my manager for 12 years, but also was a great sponsor. I've had others who were sponsors along the way, as well. We need to be more aware of, and intentional about, the importance of sponsorship at Cambia, and I'm so glad that Tonya Adams is leading one effort to do just that.
What women are inspirational to you at Cambia?
There are so many women who inspire me at Cambia. Here I'll mention my "finance trifecta": Stacy Simpson, Anjie Vannoy, and Alissa Seidlitz (Cambia's Senior VP of Strategic Finance, VP of Finance and Controller, and VP of Tax respectively). The leadership, oversight, and innovation they provide to Cambia are immense – I could write a book! For example, I've observed Stacy and Anjie move from roles where they were very successful into new roles. This came with personal risk and some growing pains, but soon they became just as successful in those new roles – and because of their broader experience, they were even more impactful. Their courage to do that was on my mind when I decided to move from the comfort of 17 years in the legal department into my current role. 
Alissa inspires me because of her innovative thinking. One might think the VP of Tax has a narrow sandbox – but working with Alissa and seeing how she thinks outside of that box has helped me understand what it means to break down siloes and think big. Alissa also keeps me on my toes:  whenever I work with her, I find myself trying to run faster and be as excellent as I can be. To me, that's inspirational!
 
Jackie Heaven-Ah Hi
How has WELL helped develop you as a leader? What has helped you advance your career at Cambia?
Cambia's employee resource group for women, WELL, gave me the opportunity to build relationships with other women professionals across the organization and other departments. I was able to connect with peers while also utilizing the mentorship program early on. This enabled me to build on my development goals as I worked towards my career aspirations. 
Do you have anything else you would like to share around this topic? 
I encourage others to get engaged and involved in employee resource groups that they see aligned with their goals. Take the additional time and investment in these opportunities to help learn from and connect with others with a variety of talents across Cambia.  
Who is a woman leader in history or currently who inspires you?
I am currently inspired by New Zealand Prime Minister Jacinda Ardern. Jacinda welcomed her first child while being the prime minister and has managed to lead a country through many challenges - recently winning the election for her second term. She's faced the challenges during her leadership of New Zealand with grace and compassion. From the struggles of COVID-19, to the largest mass shooting in New Zealand's history and the devastating tragedy from the volcanic eruption.
My favorite quote from [Prime Minister] Jacinda Arden is, "I really rebel against this idea that politics had to be a place full of ego and where you are constantly focused on scoring hits against one another. Yes, we need a robust democracy, but you can be strong and you can be kind."
What women are inspirational to you at Cambia?
This is so very difficult to choose just one or two. My list would be a least one page long. I am inspired by all the women at Cambia that I engage with every day. Each woman brings with them a special, unique characteristic and strength that has been a benefit for me to learn from and grow to be a better person, leader, mother, wife, sister and friend to others. I am so grateful for the opportunities I have received and the friendships of my strong female leaders inspiring me here at Cambia.