Celebrating Women's History Month: Leadership and Courage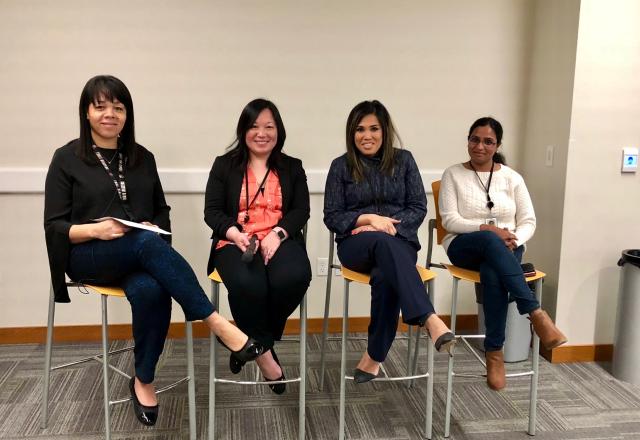 Photo caption:  Timshel Tarbet, TQ Nguyen, Janice Lefebvre, Nalini Subramaniam
Diversity and inclusion are at the core of Cambia's values. In celebration of Women's History Month earlier this spring, the Cambia Women's Employee Leadership Lab (WELL) partnered with the military employee resource group and African-American employee resource group to explore the diverse experiences and perspectives among our women employees.
With two Q&A panel discussions on March 17 and March 27 and one movie-viewing event featuring the film "Hidden Figures" on March 22, employees had the opportunity to share stories, encouragement, and how they overcame challenges. These events were hosted at our headquarters in Portland, Oregon, and live-streamed to Cambia offices in Idaho, Washington and Utah, with more than 100 employees in attendance.
The panels discussed how being able to work with team members who have shared cultural backgrounds and values is important to them. "When you look across at your team members and see someone who looks and talks and has the same values as you, it makes you want to come to work," said TQ Nguyen, Cambia Manager of Strategic Sourcing.
Being part of an innovative and a health-tech company was an important aspect of working at Cambia for Nicole Cathcart, Director of Innovation Force, who saw a connection between inclusivity, human-centered design and consumer engagement. "The more we strive to make our company diverse, the easier it will be to solve our customer's problems," said Nicole.
Some of the women put forward stories about how their upbringings affected their identities at work, from being inspired by their parents' strong work ethic to making a personal choice to embrace their family's history. Janice Lefebvre, Manager of the Project Management Office for Cambia, shared that growing up as a first-generation Filipino-American, her parents didn't want to teach her their language because they feared it would create roadblocks to her success. Addressing the audience, she insisted that learning about your culture isn't a roadblock, "it's who you are," she declared.
Throughout the discussions, the theme that kept settling in was the value of empathy at work. All of the women had different stories that gave them access to a unique understanding and perspective and allowed them to see the nuances in each other's stories. "Having walked through times that were not easy has enabled me to put myself in someone else's shoes," said Timshel Tarbet, Cambia Director of Ethics and Integrated Strategy Management.
The WELL's vision is to cultivate a welcoming and nurturing community that will activate the next generation of female innovators. Throughout the year, Cambia will continue the conversation around inclusion and intersectionality with programs around male allyship, caregiving, public service, leadership, and women in technology.
If you'd like to be part of this ongoing conversation, we encourage you to join the Cambia team.