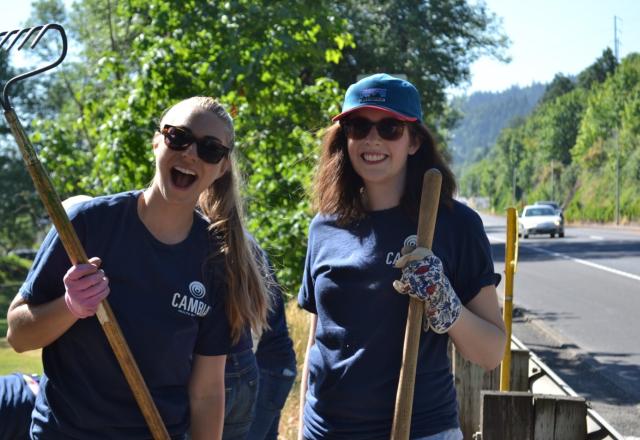 By Rachel Day, Cambia Brand Communications Specialist
This post is part of a series that highlights Cambia's skills-based volunteerism program which leverages the specialized talents and expertise of employees to strengthen the infrastructure of nonprofits, helping them build and sustain their capacity to successfully achieve their missions. In turn, employees get to use their business know-how to benefit a charitable cause and dramatically expand its impact on the community.  
Turning off the water while you brush your teeth, composting, limiting waste – most people know these things are good for the environment, but what about skills-based volunteerism? I've been passionate about the environment for as long as I can remember. My mom taught me how to recycle, to never litter and to care about the planet we all call home. Those lessons stayed with me and I've dedicated volunteer and personal time to environmental sustainably as an adult – but never on a professional level.
It's important to me to work for a company that cares about sustainability, but when I started at Cambia, I didn't realize how many opportunities there would be for me, a communications professional, to get involved in projects supporting the environment. I've picked up litter in partnership with Solve, completely transformed the Kingsley Garden with my team and most recently, used my professional skills to partner with the Oregon Environmental Council for their World Water Day campaign, a chance to help build a collective voice for Oregon's water resources.
This skills-based volunteerism opportunity with OEC was especially exciting for me because it blended two of my passions, the environment with communications and social media. I helped develop the #MyWaterWhy campaign, designed to find out why water matters to Oregonians. We received 144 responses with people sharing what water means to them, some main themes occurred: health, rivers, life, oceans. This was an amazing chance to get to work with a local nonprofit on a project that really matters to me and makes a difference.