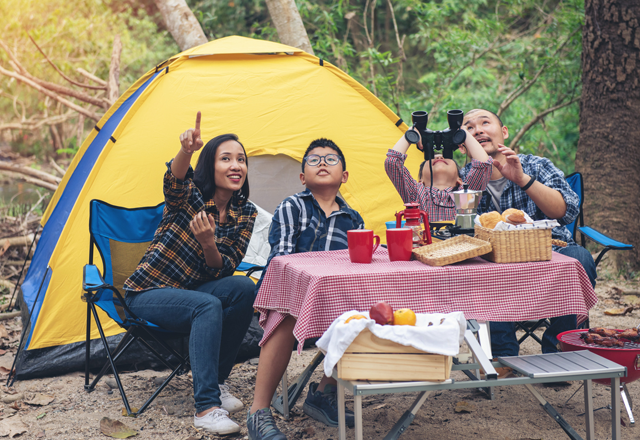 The COVID-19 global pandemic has altered or completely shut down many vacation and travel plans. As parts of the country slowly reopen, you may be considering vacationing.  Here are some best practices for keeping yourself, your family and those around you safe and healthy.
Consider your Destination and Activities: Before you pack your bags, research your destination and the activities you want to do while there. Some questions you might want to consider include:
Are there any current quarantine or travel restrictions?
Are there currently spikes or COVID-19 "hotspots" near where you are traveling?
Are the attractions you want to see or locations you want to visit open or operating on modified schedules? 
Will you be able to maintain safe physical distancing practices?
This might be the year for a road trip to the mountains or the beach for hiking, golf, biking or other more physical distancing-friendly activities. For up-to-date information and travel guidance, check the CDC's website for your state or local health department. 
Tips for Car Travel
Reduce the number of stops when possible and stop driving if you become drowsy or need a break.
Pack face masks and alcohol-based hand sanitizer in an easily accessible spot so that you can use them during the trip as necessary.
Prepare food and water to take on the trip. Consider including nonperishable items in case access to restaurants and grocery stores is limited.
When you need to get gas, use a disinfectant wipe on handles or buttons before you touch them. After fueling, use hand sanitizer. And when you get to where you're going, use soap and water to wash your hands for at least 20 seconds.
If you choose to pick up a meal on the road, opt for restaurants that offer drive-thru or curbside service.
Hotels and Other Lodging
Wear a mask and maintain physical distancing when in common areas of the hotel. Avoid touching items in the hotel common areas such as magazines, pens, etc. If you must touch common items like elevator buttons and doorknobs, avoid touching your face and wash your hands thoroughly as soon as possible.
Avoid spending prolonged amounts of time in "choke points" in hotels where physical distancing is difficult to maintain such as crowded hallways, entrances or elevators. Allow space and take the stairs if possible.
 Wash your hands thoroughly with soap and warm water for a minimum of 20 seconds every time you enter your room.
Call ahead to check with your hotel or place of lodging to get information on how they are keeping their employees and guests safe. Some things to ask about include:

Enhanced cleaning of public areas, elevators, guest rooms, as well as food preparation and laundry areas
Physical distancing measures in the lobby, at the front desk and in parking areas
Face coverings of staff and guests
Focused employee training in the following:

Hand-washing procedures
Cleaning and disinfecting protocols
Use of personal protective equipment
Pro Tip: If you feel like you need to take extra precautions when staying in a hotel or rental property, request that the property or room be vacant for at least 24 hours before you arrive then wipe down all high-touch surfaces such as doorknobs, light switches, counters, etc. with disinfectant upon your arrival.
Tips for Air Travel
Due to the way in which air circulates and is filtered on airplanes, most viruses don't spread easily on flights. However, crowded flights, security lines and airport terminals make physical distancing difficult.
Wash or sanitize your hands after going through airport security, before you get on the plane and immediately after landing.
Minimize the number of personal items you keep in your pockets while on the flight (phone, wallet, keys, etc.). Place the items you need in clear plastic bags to minimize the amount of contact they have with other surfaces and sanitize them after your flight.
Bring hand sanitizer (up to 12 ounces) in a clear plastic bag for use during the flight.
If possible, avoid or minimize the amount of eating and drinking while on the plane. If you do eat on the plane, make sure you thoroughly wash your hands before doing so.
Be patient. Physical distancing practices may slow the normal pace of moving in and out of the airport, so make sure to arrive early for flights, keep calm, practice empathy and follow the instructions of airport employees. Be courteous and do your best to give others their space.