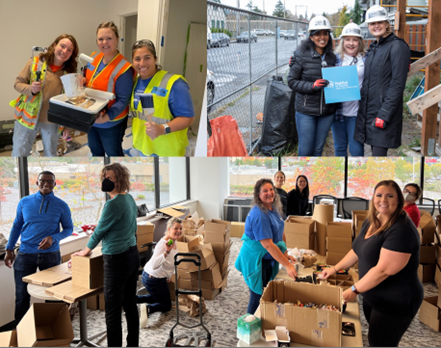 Every day, employees at Cambia come to work to help all those we serve as well as one another. For many, the commitment to service doesn't end when the workday is over. Outside of the virtual or in-person office, our employees show up for their local communities by volunteering and donating to local causes. We admire their dedication and encourage employees to contribute to their local communities in ways that work best for them.  
Our Corporate Social Responsibility (CSR) team and Cambia Health Foundation work together to provide and promote opportunities for Cambia employees to give back. For example, the CSR team maintains an internal website where employees can look for volunteer options ranging from ongoing commitments to one-time events, virtual to in-person, for teams or individuals looking to contribute outside of work. In 2022, Cambia employees volunteered a total of 11,286 hours, the top categories including: 
Animals (e.g., walking dogs, helping at cat rescues) 

Food and nutrition (e.g., food banks and meal delivery for seniors) 

General health (e.g., blood drives and awareness walks) 

Youth development (e.g., mentoring, reading to young people) 
The Foundation also introduced a volunteer rewards program in 2022 called Dollars for Doers to increase the impact of employee volunteering and donations. When Cambia employees log volunteer time, the Foundation directs $20 per hour to a cause of their choice, up to $400 total in a year. In 2022, 462 employees participated in the Dollars for Doers program, resulting in $78,632 directed to nonprofit organizations. You can read more about our philanthropic efforts by reading the Cambia 2022 Community Impact Report.  
This year and every year during National Volunteer Week, we celebrate employees who volunteer in their communities. Although hundreds of Cambia employees volunteer each year, not everyone is aware of all the ways the CSR team and the Foundation collaborate to support and celebrate employee giving. Through special internal communications and a virtual lunch-and-learn event during National Volunteer Week, the CSR team is helping our entire Cambia community learn about ways to give back. This includes collaborating with regional offices to create in-person volunteer events for later this spring to keep the momentum of National Volunteer Week going.  
Our employees are at the heart of what we do. We appreciate the dedication they bring to their work at Cambia. We also applaud their commitment to giving back to local communities outside of the office. In partnership with the Foundation and through the hard work of our CSR team, we strive to empower our employees to engage with their communities and give back year-round.