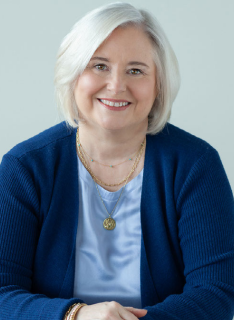 President, Cambia Health Foundation
As president of Cambia Health Foundation, Peggy works with a wide range of stakeholders to drive health care transformation through purposeful investments in whole person care models that reduce disparities and result in better experiences for people and families. Sojourns®, the Foundation's signature program, promotes palliative care innovation and leadership development. Through Healthy People, Healthy Communities, the Foundation works to address social determinants of health, eliminate systemic barriers and empower all people to achieve optimum health.
Peggy is passionate about helping people with serious illness and their caregivers lives well. In 2019, she founded the Oregon Coalition for Living Well with Serious Illness. She sits on the leadership council for the Rosalyn Carter Institute for Caregivers and co-chairs the Roundtable on Quality of Care for People with Serious Illness at the National Academies of Sciences, Engineering and Medicine (NASEM), as well as the Blue Cross Blue Shield Association's Palliative Care Learning Collaborative. Peggy also serves on the board of directors of Grantmakers In Aging. In 2016, the American Academy of Hospice and Palliative Medicine recognized the Cambia Health Foundation with its highest honor, a Presidential Citation. 
Peggy is also active in the local philanthropic community where she volunteers her time as a board director or leadership council member of several non-profit organizations, including Friends of the Children, Doernbecher Children's Hospital, Start Making a Reader Today (SMART), Habitat for Humanity, the American Heart Association and All Hands Raised. She serves on the Governor's Healthy Schools Reopening Council. In 2017, Peggy chaired the American Heart Association's Go Red for Women campaign in Oregon and used that platform to promote health equity and palliative care awareness for people living with heart disease. She co-chaired the Classic Wines Auction benefitting five local children's charities in 2015 and 2016.   
Peggy was recognized as a finalist in the Innovation category for PR News' Top Women in Healthcare Leadership Awards in 2019. She was also recognized by Portland Monthly magazine as an Extraordinary Board Member in 2017 for her service to the community and leadership of the Cambia Health Foundation. She was honored by Dress for Success Oregon with its Athena Award in 2016, by the Girl Scouts of Oregon and Southwest Washington as a Woman of Distinction in 2015, and by the Portland Business Journal as a Woman of Influence in 2014.
Peggy joined the company in 1997 as an associate general counsel and has held several posts, including chief of staff to the CEO, vice president of Legal Services, and director of Litigation & Risk Management.  Previously, Peggy worked as an attorney at Garvey Schubert & Barer.
She received her Bachelor of Arts degree from Lawrence University and her law degree from Northwestern School of Law of Lewis and Clark College. She has also completed the Stanford Executive Program and is a member of the Stanford Graduate School of Business Alumni Association.