Why is Palliative Care Person-focused?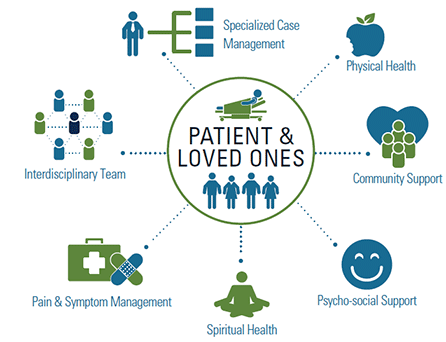 Palliative Care is specialized medical care for people with serious illnesses, with a focus on providing symptom relief and improving quality of life for the patient and family.
People and their families in these situations deserve to have access to the most compassionate and personalized care our industry can offer them. Palliative care can fill this need, leading to better quality of life for patients, reduced stress for loved ones and a feeling of empowerment for everyone involved in this process.
Who it Benefits
Palliative Care: An "extra layer of care that's personal and relevant to all of us."
A heartfelt video about the Beaty family whose son was in a near-fatal car accident. Featured at the Dean Circle Event, celebrating the Cambia Palliative Care Center of Excellence, this story illustrates how palliative care can provide the empathy and compassion needed for the patient and family to deal with their serious illness or injury.
Cambia Health Foundation honors the 2015 Sojourns Scholars
Cambia Health Foundation recently honored 10 palliative care clinicians as the 2015 Sojourns Scholars, which recognizes individuals who will shape the future of palliative care. The program provides each person with an $180,000 grant to further their palliative care work, whether through research, clinical, educational or policy projects.
Familias en Accion: Support, Hope and Help for Latinos Facing Serious Illness
For a patient who has received a serious medical diagnosis and who also happens to be from a different culture, navigating the situation can be doubly bewildering at a time when decisions are most pressing. Cambia Health Foundation has long supported Familias en Accion, a Portland-based agency helping Latinos find support during times of need.
Transforming the Consumer Experience
Cambia invests in the area of palliative care because people-centric services are necessary to transform the way people experience the health care system.
Open Cambia Health Foundation dot org in a new window.
Our Foundation
The Cambia Health Foundation dedicates significant resources—including millions of dollars in funding—toward palliative care-focused projects and programs to advance leadership, innovation and quality.
Read more about Our Health Plans
Our Health Plans
We're not just talking about palliative care and advocating for change. Our regional health plans across four states have developed the most comprehensive palliative care benefit program in the nation.
Read more about Our Investments
Our Solutions
We support next-generation companies that promote independence, quality of life, and preservation of life and care preferences.
Contact Us
For more information about any of these initiatives, or to find out what you can do to promote the importance of palliative care in your community, please contact us via the form below.