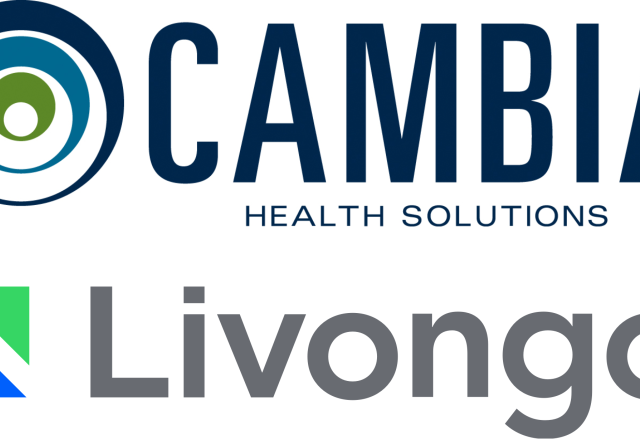 Cambia Health Solutions (Cambia) and Livongo Health (Livongo) today announced a strategic partnership that combines Cambia's vision to redesign health and health care to be more consumer-driven with Livongo's proven 'whole person' approach to empowering people with chronic conditions to live better and healthier lives.
Cambia and Livongo will collaborate to personalize health care for people who have ongoing health needs in simple, meaningful and tangible ways. Initially, the companies will work together to make Livongo's category-leading Livongo for Diabetes solution available to Regence Blue Cross and Blue Shield in Idaho, Oregon, Utah, and Washington. The companies will then expand their partnership to co-develop solutions that personalize care for conditions such as hypertension and integrated behavioral health to improve consumers' lives nationwide.
"We see great potential in collaborating with Livongo to transform the experience Americans have in health and in sickness," said Mark Ganz, President and Chief Executive Officer of Cambia Health Solutions. "Livongo is a kindred spirit on our journey to make health care more person-focused and economically sustainable. Both companies are committed to a human-centered design approach and seamless experiences for individuals and their families."
Livongo Chief Executive Officer Glen Tullman commented, "At Livongo we create personalized member experiences based on data insights that we offer to our members in a way that empowers them to make better health decisions. We're energized by the opportunity to partner with Cambia and expand the reach and impact of our 'whole person' approach to health and health care."
As part of the partnership, Echo Health Ventures, the digital health investment company jointly owned by Cambia and Mosaic Health Solutions, has made a strategic investment in Livongo.
"Echo Health Ventures' investment in Livongo recognizes the rapid success of the company's diabetes and hypertension offerings and reflects our commitment to invest in and support solutions that personalize care for people with chronic conditions," said Rob Coppedge, Chief Executive Officer of Echo Health Ventures.
Chronic conditions account for the largest and fastest growing part of U.S. health care costs[1] and are responsible for 7 of 10 health related deaths each year.1 Diabetes and hypertension are among the most prevalent of these conditions. The total estimated cost of diagnosed diabetes in 2017 was $327 billion, including $237 billion in direct medical costs and $90 billion in reduced productivity, according to a 2018 paper by the American Diabetes Association.[2] Additionally, 1 in 5 adults in the U.S. have a mental health condition, 56% of which receive no treatment.[3]
About Livongo Health
Livongo's vision is to empower people with chronic conditions to live better and healthier lives. We reduce the daily burdens of people living with chronic conditions, starting with diabetes and hypertension, by driving behavior change through reinforcement learning and the combination of consumer health technology, personalized recommendations, and real-time support at the point of impact. Powered by advanced data science, we create personalized experiences for our members so they receive the right information, tools, and support, at the right time. Our approach is leading to better financial and clinical outcomes while creating a better experience for all people with chronic conditions and their care team of family, friends, and medical professionals.
Livongo's offerings include Livongo for Diabetes and Livongo for Hypertension. Eligible members of the Livongo for Diabetes program will have access to the Livongo for Hypertension program. In addition, Livongo will offer a stand-alone hypertension solution to new members. By addressing multiple chronic conditions on one platform using reinforcement learning, Livongo can better understand the personal health narrative of each member and offer real-time recommendations that are tailored to each person's unique health experience. For more information visit: www.livongo.com.
About Cambia Health Solutions
Cambia Health Solutions, headquartered in Portland, Oregon, is dedicated to transforming health care. We put people at the heart of everything we do as we work to make the health care system more economically-sustainable and efficient for people and their families. Our company reaches more than 70 million Americans nationwide, including more than two million people in the Pacific Northwest who are enrolled in our regional health plans. To learn more about us, visit CambiaHealth.com or Twitter.com/cambia.
About Echo Health Ventures
Echo Health Ventures LLC invests to build and grow tomorrow's great health care companies. We invest across every stage and work with our portfolio companies to challenge and transform the health care system. As a strategic collaboration of Cambia Health Solutions and Mosaic Health Solutions, we work closely with our Parents to catalyze the development of our portfolio companies and accelerate their innovations to scale nationally. Echo Health Ventures operates nationwide with offices in Seattle, Durham, N.C., and Portland, Ore. Follow us on Twitter @healthecho.
###
MEDIA CONTACTS
Livongo                                               Cambia Health Solutions and Echo Health Ventures
Lorie Fiber                                           Wen Chiu
646-318-0575                                   206-332-4959
lfiber@livongo.com                             wen.chiu@cambiahealth.com