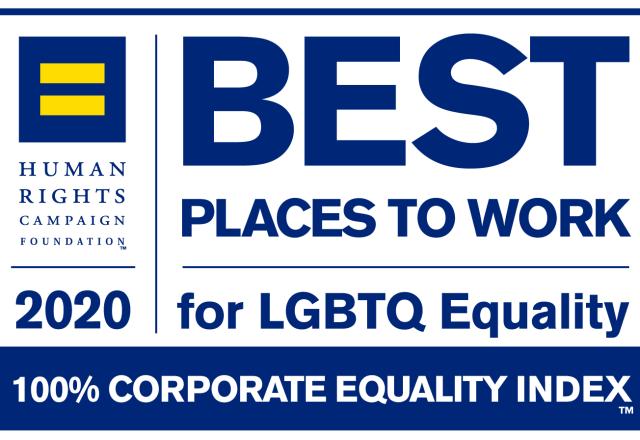 Cambia Health Solutions earns 100 percent on the Human Rights Campaign Foundation's annual scorecard assessing LGBTQ workplace equality
Cambia Health Solutions, a family of companies dedicated to transforming the health care experience for people and their families, proudly announced that it received a score of 100 percent on the Human Rights Campaign Foundation's 2020 Corporate Equality Index (CEI), the nation's premier benchmarking survey and report measuring corporate policies and practices related to LGBTQ workplace equality. Cambia Health Solutions joins the ranks of more than 680 major U.S. businesses that also earned top marks this year.
"Cambia supports and nurtures a workplace culture that promotes justice, equity, diversity and inclusion. Our diverse workforce strengthens our ability to serve our communities," said Julie Lindberg, Cambia Health Solutions PRIDE Executive Sponsor, VP Clinical Services. "We are honored to be recognized by the HRC for a fourth consecutive year and will continue our work towards creating a fully inclusive and diverse workplace."
"The impact of the Human Rights Campaign's Corporate Equality Index over its 18-year history is profound. In this time, the corporate community has worked with us to adopt LGBTQ-inclusive policies, practices and benefits, establishing the Corporate Equality Index as a primary driving force for LGBTQ workplace inclusion in America and across the globe," said HRC President Alphonso David. "These companies know that protecting their LGBTQ employees and customers from discrimination is not just the right thing to do -- it is also the best business decision. In addition, many of these leaders are also advocating for the LGBTQ community and equality under the law in the public square. From supporting LGBTQ civil rights protections in the U.S. through HRC's Business Coalition for the Equality Act, to featuring transgender and non-binary people in an ad in Argentina, to advocating for marriage equality in Taiwan -- businesses understand their LGBTQ employees and customers deserve to be seen, valued and respected not only at work, but in every aspect of daily life."
The results of this year's CEI showcase how 1059 U.S.-based companies are not only promoting LGBTQ-friendly workplace policies in the U.S. but helping advance the cause of LGBTQ inclusion in workplaces abroad. Cambia Health Solutions efforts in satisfying all of the CEI's criteria earned a 100 percent ranking and the designation as a Best Place to Work for LGBTQ Equality.
The CEI rates companies and top law firms on detailed criteria falling under five broad categories:
Non-discrimination policies
Employment benefits
Demonstrated organizational competency and accountability around LGBTQ diversity and inclusion
Public commitment to LGBTQ equality
Responsible citizenship
The full report, is available online at www.hrc.org/cei.